Before we get started can you all go do me a solid and like my Facebook fan page?? Thanks so much!!
My Current Eyeliner Sponsor: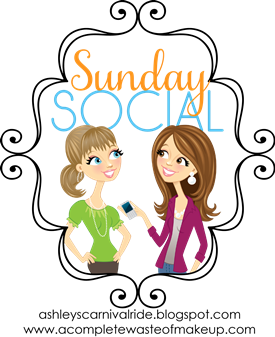 Hi guys happy Sunday Social day!
By the way today is the 78th SUNDAY SOCIAL! Oh my gosh we could not have made it to 78 weeks without you guys and your support every week so thank you thank you thank you!
This Weeks Questions: 1. What is your favorite ice cream flavor? Tie between Mint Choc chip and choc chip cookie dough
2. What is your favorite smell? Pumpkin Spice and cinnamon
3. What is your favorite TV commercial? (Past or present) I know you are all probably annoyed but I still cant get enough
4. What is your favorite day of the week? Sundays. Sundays A and I usually laze around, watch Football, relax and nap and I love our cuddle time on the couch. Sundays are the best day.
5. What is your favorite way to waste time? See above 🙂 Also add pinterest and youtube beauty videos
6. What is your favorite article of clothing? In general scarves to pick one my burberry blue plaid cashmere scarf
Next Weeks Questions:
1. What is the wallpaper on your cell phone?
2. What do you keep beside your bed?
3. What is your least favorite chore?
4. If you could eliminate one thing from your daily routine, what would it be?
5. What do you do to vent anger?
6. What is your favorite holiday of the year and why?
Come link up with us and get very social! Meet new friends! Its a great way to grow your blog and and find new great blogs to read.