I do not do well with mess. Clutter and I do not get along. As I have gotten older and especially after I had kids I learned that messes and clutter are massive anxiety triggers for me. I have found some things to do daily to keep your house tidy that have TRULY saved my sanity!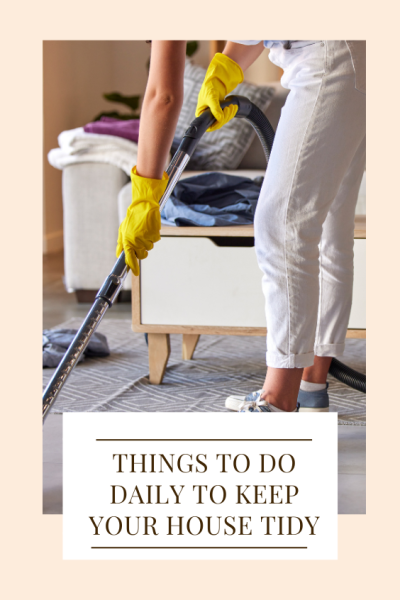 Things To Do Daily To Keep Your House Tidy
Clean as you go in the kitchen: My husband is probably so sick of me saying this. I love to bake and baking can get messy, I always clean as I go. Before I even put anything in the oven I put all the ingredients away, wipe down the counters etc. Same when I am making something for the kids even as simple as their lunches for the next day. I put everything away. It really makes the kitchen less intense if you just clean as you go.
Give your kids "jobs:" Listen my kids are 3 and 6. They don't have huge chore charts. They each have age appropriate jobs which are more or less cleaning up after themselves, putting clothes in the laundry basket, wiping down the table, etc. It gives the a sense of ownership and takes a few things off our plates.
Do a 15 minute speed clean twice a day: So this is more when my kids are home. If they are at school or camp our house is pretty clean all day. When they are home during rest time we do a 15 minute speed clean and I do this at night before bed. This usually means folding blankets, checking the playroom for toys not in the right spot, wiping down counters, putting things away, etc.
Have "reset" times: This goes with the above but just plan 1-2 reset times a day. This can be as easy as 5 minutes!
Consistently purge: I am a great purger. I hold emotionally attachment to very little clothing and stuff and have zero problem giving away, or donating, or selling. I keep a few special things and the rest gets purged. If we aren't using it someone else can!
What do you do to keep your house tidy?