Liam just turned 6 a few weeks ago and his interests and favorite things are rapidly changing. For example he has been asking for a few months to take Piano lessons so we are exploring that. The toys and games he's loving change daily but there are some toys and games any 6 year old boy would love that I think are great to buy as gifts or for your own kids!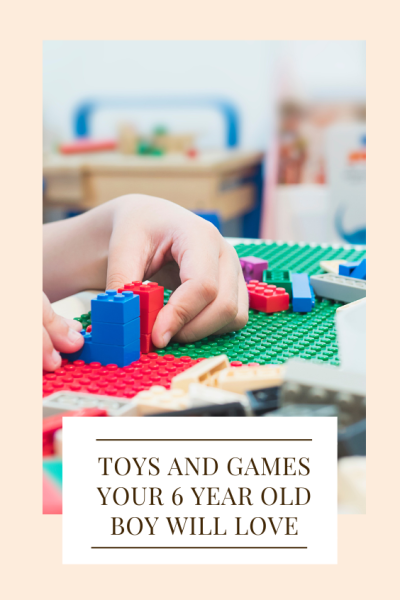 Toys And Games Any 6 Year Old Boy Will Love
Lego Set: Liam has a few of the sets where it tells you what to build but he has the most fun with this set that you can build anything you want with! I personally love it because I feel like it uses his imagination much more.
Batman Car: Liam got this for his birthday from his godparents and it has been a HUGE hit with both kids!
Wiggle Car: These are honestly good for any age from 2 up! Both my kids have and use and I even love racing them around on it!
Board Games: Liam has gotten very into board games. HIs favorites are Sorry, Chutes and Ladders, and Connect 4. We play the constantly!
Nature collecting bags: A friend gave me these for the kids and Liam loves to go on walks and find cool rocks, sticks, etc and these would make a great gift.
Transformers: He has loved Transformers for a few years and it's one of his favorites to play with.
Pirate Ship: This he got for Christmas when he was 4 but I feel like he actually plays with it more now. Another toy where I feel like the imagination yields endless opportunities.
Nugget couch: We got a nugget a few years ago and Liam has the best ideas for things to do with it. Pirate ships, forts, rockets, etc.
For me one of the things I look for when purchasing my kids toys, especially now, is how much of what they are doing will yield good imagination vs something they will play with for a week and get bored of. I think that's the best advice when choosing toys!
What is your child's favorite toy to play with?