This is going to be a post for my WordPress users out there and people thinking about moving to WordPress. I have been on WordPress for almost five years, and aside from thinking wholeheartedly WordPress is 100% the way to go. I happen to think WordPress plugins can make your blog amazing. There are TONS of plugins to use and tons that I use. Today I want to share with you the most useful WordPress plugins I use and ones that you should probably make sure you have.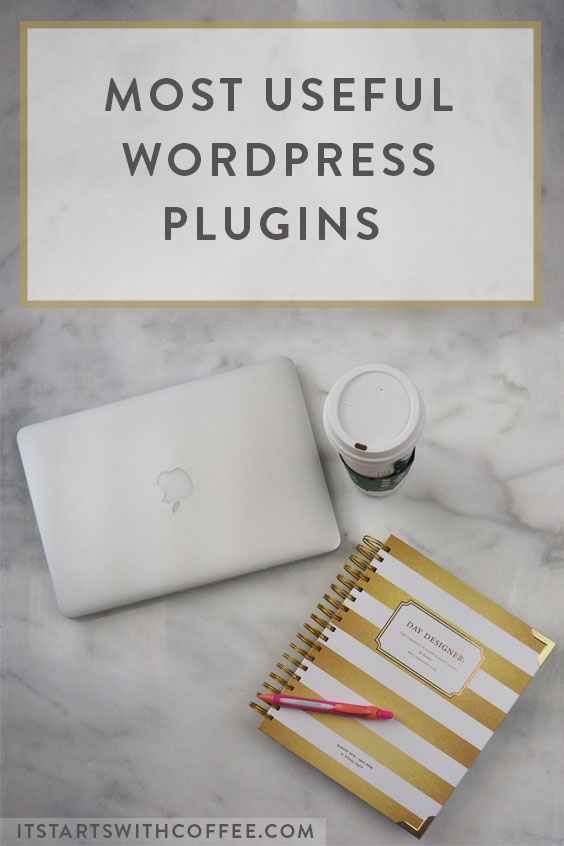 Yoast SEO: This is the best plugin for SEO. It's very user friendly and easy to figure out. It tells you exactly what you need to fix and let's you know by way of red, yellow, and green buttons if certain aspects of your post are SEO ready!
Click To Tweet: I love this plugin for inserting Tweets into your post. You see them in a lot of my posts, like this one for instance. It's great for getting people to Tweet out and share your posts.
Anti-Spam by CleanTalk: Have you ever gotten a lot of weird spam comments? This is great for filtering those out so you aren't going through and spamming/blocking all of them. You also get an email report each week telling you how many they filtered for you.
Easy Digital Downloads: This is the plugin I use to sell my blog courses. It's great for keeping track of how many courses you sell, who you sell them to, and it gives you the ability to offer discounts, set dates and times etc. Great if you are selling a course or a product on your blog!
Google Analytics: Pretty self explanatory. You need Google Analytics. Every brand or company you work with wants to know your analytics.
jQuery Pin It Button For Images: When you scroll over a photo on someone's post you will most likely see some sort of button to pin the image. You will also most likely see a widget at the bottom with Pinterest, Facebook, Twitter, Google+, and StumbleUpon buttons. I have mine built into my design but there are TONS of great plugins. Just search Share in plugins and tons pop up. A common one is Shareaholic.
[ctt title="Most Useful WordPress Plugins" tweet="WordPress user? If so this post about the most useful WordPress plugins is for you! Check it out on @Neelykins blog! ctt.ec/lx7ob+" coverup="K6e6w"]
I obviously use a lot more plugins than this, but these are the most useful WordPress plugins I use.
I would love to hear what the most useful WordPress plugins for you are, or if there are any I should check out!
If you enjoyed this post, I would love if you saved/heart it on Bloglovin!
I hope you found this post helpful! If you enjoyed finding out what the most useful WordPress plugins are make sure to check out my other blog advice posts!
Also: I have started offering blog critiques and strategy sessions! Go here for more info. They are $25 for a limited time, and they come with a blog critique where I will evaluate every aspect of your blog and a one-on-one 30 minute strategy session! This is worth over $200 and you get it for $25! Seriously, don't wait on this! Check it out here and sign up!