With spring in full swing and summer creeping up (hello 90 degree temps!) it's time for those toes to come out and play. AKA they need to look pretty for sandals! I personally love getting pedicures, but it's not cheap and honestly it's a time suck. Whereas I can do a perfect at home pedicure while watching the DVR or listening to a podcast and have laundry going. I feel like over the years I have perfected my perfect at home pedicure routine, so today I am sharing the process and it will have your toes looking salon perfect and sandal ready!
Step 1: Take off old or chipped polish. Start fresh! Make sure the polish is off really well. Then wash off your feet.
Step 2: I use the Amopé Pedi Perfect Wet & Dry Rechargeable Foot File to really clean up my feet. Listen, our feet are not perfect. We are on them all day and they get dry and cracked, and the skin is not the best. We all deal with this and the Amopé Pedi Perfect Wet & Dry is the only thing that has ever worked on my feet long term. I use this when I give myself pedicures and then a few times during the week in the shower to keep my feet looking their best. I am telling you guys this is life changing! I actually purchased it a few months ago after seeing it on TV. It makes my pedicures last SO MUCH LONGER no matter if I do them myself or get them done in a salon. By using this took throughout the time of a pedicure it just lasts longer. Note: I have very sensitive skin and this does not hurt your feet or take too much skin off. That's the feedback I have gotten from others that use it too. It's amazing! You need to go buy it like yesterday.
Step 3: Moisturize. Just like in a salon give yourself a foot rub, use some good lotion and really massage those feet.
Step 4: I use Seche Clear base coat to prime the nails. Then this time I used a new favorite, OPI Dutch Tulips. It's a great spring color. It's a reddish pink and oh so pretty! I have people ask me what color it is ALL THE TIME! I usually do two coats.  Then I use Seche Vite topcoat! This stuff is magic and dries your nails super quick.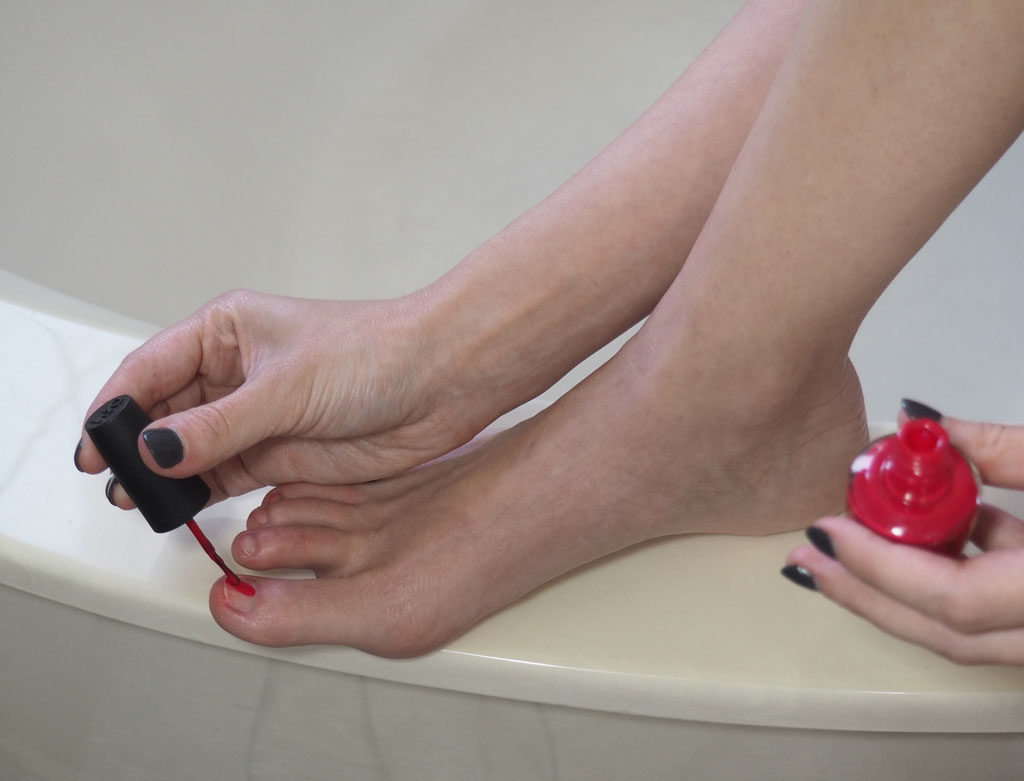 Step 5: I clean up around my toes with q-tips to get any excess polish off.
Step 6: Enjoy the finished product. Put on some cute sandals and show off those toes!
See, not too difficult and totally great to have a little time to yourself and pamper yourself. You deserve it!
What are your tips for the perfect at home pedicure?
This post is sponsored by Amopé. The opinions expressed are 100% my own.