So this post falls under a category of "we probably piss people off but I don't really care." However, I know a lot of people, especially parents of young children, can really relate. I want to talk about why we don't adjust our schedule for others, even family.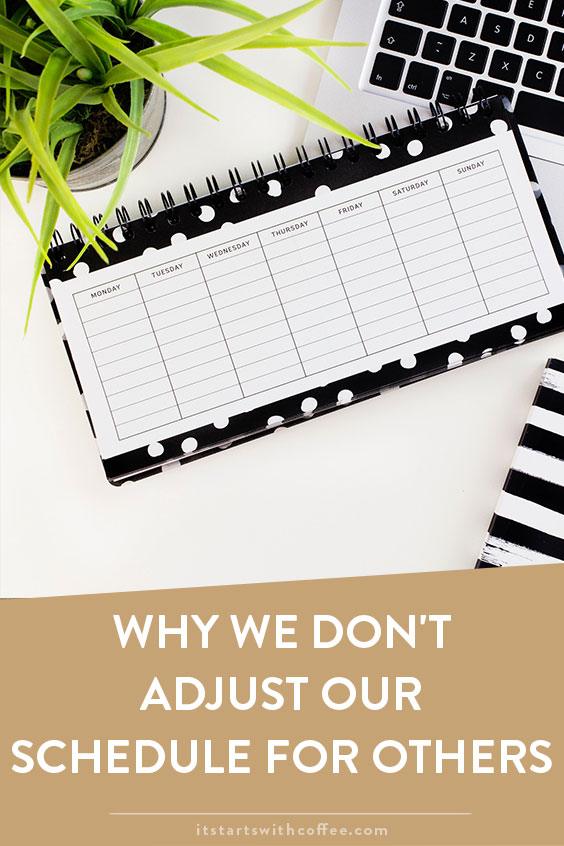 Why We Don't Adjust Our Schedule For Others
When Liam was born I knew I would be the kind of mom who stuck to schedules. I read the book, 12 Hours of Sleep by 12 Weeks, and sure enough by 12 weeks he was sleeping through the night.  Once we started that program our lives revolved around his schedule. He was asleep by 7 each night, meaning if people wanted to do dinner, hang out with us etc it had to be over by 6:30 so we could get him down for the night. If our family was having a holiday or special meal we left early or did not go. It really pissed people off, but you know what we did not care. We don't adjust our schedule for others because Liam is our priority and his schedule completely affects his mood/sleep for days ahead.
Back then he also took two naps a day and that meant a lot of times not going to morning play dates or seeing friends for lunch etc. Now he takes one nap a day and on the days he's not in school we are pretty strict about it give or take 30 minutes. His sleep though, that is a non-negotiable.
Here are a few reasons we don't adjust:
Liam knows his schedule and knows internally when it's time to sleep — he asks for it
He is cranky past his nap or bedtime
He likes his routine
If he doesn't sleep well at night he doesn't nap well the next day. Sleep begets sleep
It's not our job to adjust a 1 year old's schedule when adults can easily adjust their schedules for him
If we miss stuff it's not the end of the world
Sometimes if it's a family dinner I will go and Andrew will put Liam to bed. Or if one of us has a guys/girls night out. If we have a date night usually we put him to bed first. If you aren't a parent you probably do not care about this but if you are or you plan to be one day you may understand. Kids need sleep, they need routine. They thrive off of it. Sure if we are traveling everything gets thrown out the window but if we are able to stay on our schedule/routine we do.
I would love to know your thoughts on this!