This is a sponsored post written by me on behalf of INVIA. All opinions are 100% mine.
Everyone tells you that when you have a baby everything changes. To some degree that is true. To some degree I feel like our life is basically the same just this little person hangs out with us all the time. There have been a few changes I was not prepared for though and today I want to talk about those.
3 Mom Changes I Was Not Prepared For
The Exhaustion: I was prepared to not sleep when Liam was a newborn. The first night we were home with him I may have slept 2 hours total. Eventually we got him on a schedule and now we have a baby that sleeps 12 hours every night with 2 great naps every day. Yet, I am still exhausted. Why you ask? Well there is the laundry, cleaning bottles, changing diapers, carrying a 23 lb baby up and down stairs all day, plus working with the blog full time, being a wife, daughter, and friend, working out, and trying to find 30 minutes a day for myself. You guys it is EXHAUSTING! Most nights I am asleep before 9 PM. One thing that has been helping me though is INVIA. Not only has INVIA helped me cut back on the caffeine, but it has helped me drink more water! Double win. INVIA not only tastes great; its simple yet effective formula and high-quality ingredients are proven to enhance focus and performance for the very best version of you – wherever your life takes you. Drinking INVIA a couple times per day replaces both coffee and soda consumption. It also adds to daily value of water consumption like I said. I have noticed a HUGE increase in my water consumption the past few months. Plus it's just easy you just pour it in water, stir a little and boom! Delish!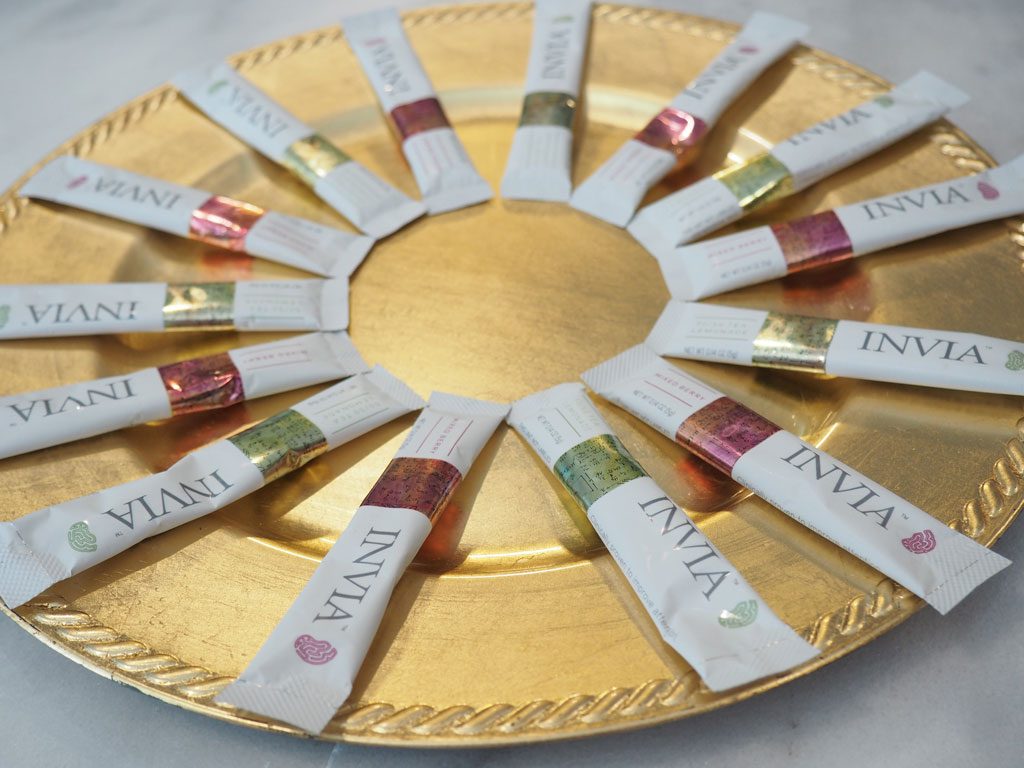 With a subscription membership, re-ordering INVIA is one less thing you need to worry about. Easy to use stick-packs require just a bottle of water. These are awesome for travel and to throw in your gym or work bag or purse. INVIA comes in two amazing flavors, mixed berry and lemonade tea. I honestly love both so much! It has 100mg of caffeine the same as a cup of coffee. Plus it's sugar free. There is just no downside! So use the code "START50" for 50% off your first order today!
The Loneliness: Being home with a baby all day can get really lonely. I try to get out at least once a day. We meet friends for walks or at the park. We go to swim class and little gym. We head to story time etc. But when Liam is napping or the days where he is extra fussy and we stay home it gets really lonely. Sometimes it can be depressing. I love him and love having a baby, but I know my other moms can relate that some days it can be lonely.
The Fear: Oh my gosh, I worry about everything. Is he eating enough? Sleeping enough? Is he too warm? Too cold? Is he breathing? The list goes on. No one told me that once you have a baby you would just be afraid of every little thing. I try to remember to relax and that he's fine but the mom fear is real!
I am glad I am able to be open and honest with you guys about what is on my heart. Being a mom is the absolute best job and I love every second.
What is one mom change or just life change in general you haven't been prepared for?