I love to be productive and some days are harder than others. I find that I am my most productive during the little pockets of time I have. Maybe it's 30 minutes in the morning or the 30 minutes before I go grab the kids from school. Whenever it is I find that I get so much done! Sharing 31 Productive Things You Can Do In Under 30 Minutes that may surprise you!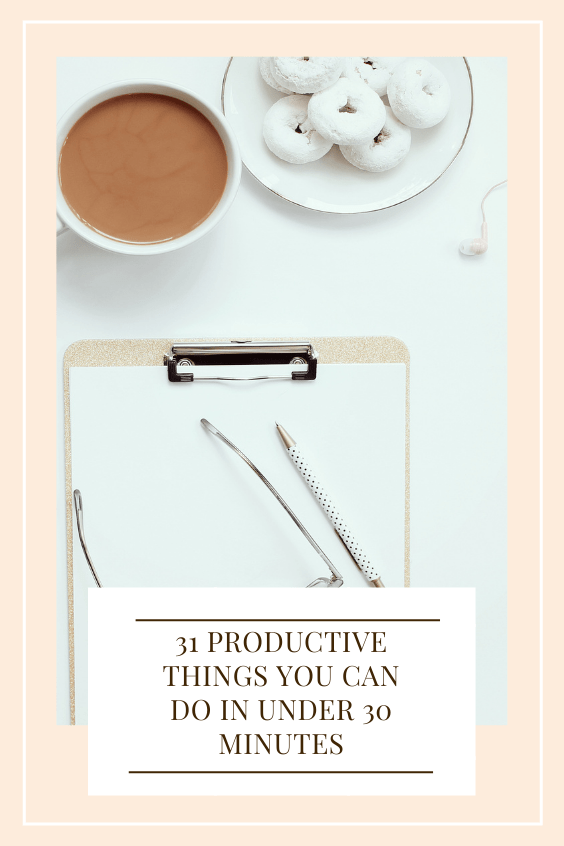 31 Productive Things You Can Do In Under 30 Minutes
Organize your junk drawer
Clean out your purse
Clean your bathroom
Unload the dishwasher and straighten your kitchen
Go on a walk
Do a face mask
Clean up your emails
Do a 30-minute workout
Purge your closet
Run an errand
Fold laundry
Meditate
Organize the pictures in your phone
Clean up your phone apps
Read a few chapters of a book
Work on your budget
Do a Wordle
Journal
Meal plan for the week
Meal prep
Make muffins
Clean out your car
Take out the trash
Break down boxes
Spot clean and put stuff back in its place
Unsubscribe from spam emails/email lists
Make Dr appts you've been avoiding
Pay bills
Clean out your makeup/throw away old products
Organize your medicine cabinet
Take a nap 😉
What is something you would add to this list?