When we bought our house 3 years ago the entire process of listing our old house, packing, and moving was a bit of a whirlwind. It all happened in the span of about 40 days which is really fast. I knew I needed major help and so I enlisted the help of Callbox Storage. I can't even describe how seamless they made everything. There are so many benefits to using Callbox Storage so I wanted to share the 4 benefits of using Callbox Storage I think are the biggest!
4 Benefits Of Using Callbox Storage
Storage while you list: When we wanted to list our house our realtor told us we needed to remove about 40% of the stuff in it. I looked at him like he had lost his mind. I was 5 months pregnant and had no idea where I would put 40% of our things! That's where Callbox Storage came in handy! We packed things up and they came and cataloged and photographed everything! The great thing was we could go on the website and login and see exactly what we had in storage. So when my pregnancy brain couldn't remember where Liam's scooter was I knew! Not only that but once we moved, they delivered everything in storage! You also have the option to pick and choose what they deliver and when!
Packing help: When moving day came I would love to say we were 100% packed but that is just not true. Again, super pregnant, summer in Texas, and 2 year old. So they helped us pack up the things we hadn't pack yet. Some moving companies will just throw things into boxes but not Callbox! They meticulously packed everything. (More on that below)
Moving help: So then it was time to move ALL OF THE THINGS! Things coming not only from our old house but from storage too! What's cool is if you plan it right they will load the moving truck with the storage items BEFORE they come to move you. That way everything is there together. They were SO CAREFUL! They didn't so much as scratch a wall. They got us all moved in in a timely manner. Plus they set up Liam's room first so we could make sure he was comfortable and that the transition was easy for him. KEY when moving littles. They were also friendly, and joking around chatting with us while they worked.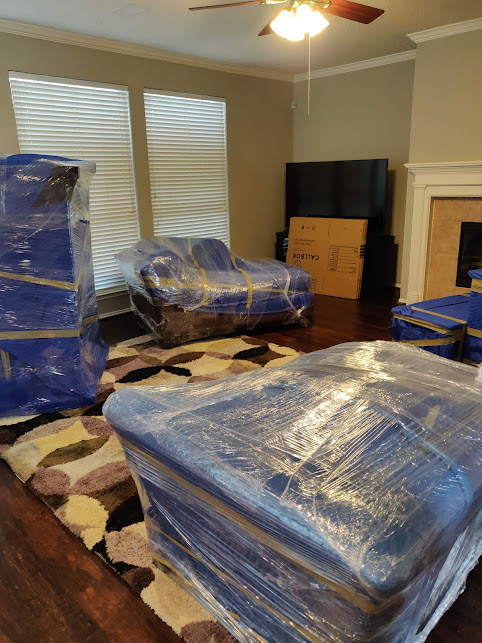 Care you won't find anywhere else: This is the biggest thing. When they wrapped TVs, art, etc they really wrapped things. They handled things with such care that I didn't worry about something accidentally breaking which I think we all know happens during a move. But not with Callbox Storage. We still, 3 years later, talk about how careful they were. You just don't find that everywhere.
Andrew and I know in a few years we will either need to move or add on to our house. You better believe no matter what we choose we will be using Callbox Storage from start to finish. I can't imagine using another company and have recommended them to every friend of mine that's moved!
If YOU want to try Callbox Storage for your move, storage, etc you can use the code, NEELY20 for 20% off your move or storage needs!
Thank you to Callbox Storage for partnering on this post.