Does anyone feel like the beginning of the month can be both amazing and equal parts overwhelming? You want it to always be your best month ever and have goals, and checklists, etc. So what are some ways to make it happen? I am sharing 5 ways to jump start your month that you will LOVE!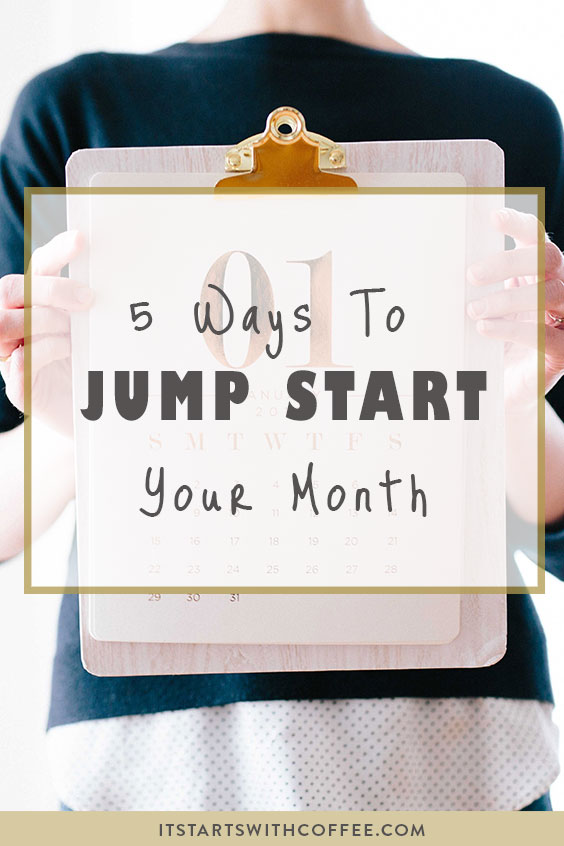 5 Ways To Jump Start Your Month
Make Reasonable Goals: I love monthly goals. They give me a great jumping off point on where to begin my month. If I know I have a goal to grow my Pinterest account I can start from day one working towards that. Going into a month without goals is tough in my opinion because you don't have much guidance. But the key is to make them reasonable. If you have never made money from your blog a reasonable goal would NOT be to make $5000 this month. Perhaps a goal to make $100 is better.
Challenge Yourself: I find that giving yourself a challenge each month (different from a goal) can be a great way to get your month going. If you challenge yourself to lose 3 lbs. or drink 90 oz of water a day. Whatever it is, give yourself a challenge for the month! Attainable or not!
Plan It Out: To do lists are great. Editorial calendars are great. Monthly overviews are great. Basically plan your month out so you know what you have coming up. Make sure to schedule in some date nights, and alone time too!
Clean and Organize: Nothing feels as good as starting a month out on a clean and organized note. Take a few hours and wipe down your fridge shelves, make sure all the laundry is done and organized, mop the floors, straighten up your desk etc. For me this also means taking clothes Liam has grown out of out of his drawers and closet!
Be positive: Start your month out on a positive note. So what if last month was horrible, or you ate badly, gained weight, didn't meet your goals, whatever. Start this month off differently. Be positive that it will be your best month ever. It will!
What are things you do to jump start your month?