I have been doing a bit of shopping the past few months. All of these recent purchases are things I have gotten a ton of use out of and things I think you guys would really love!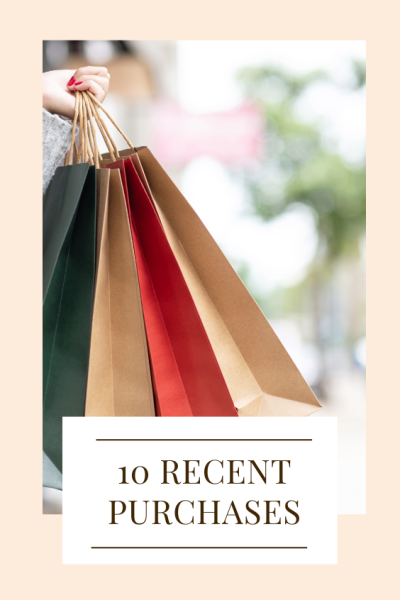 Hoka sneakers: I saw these all over TikTok and really wanted to see if they were as good as everyone said. They are! So comfy for working out and walks.
Zella long-sleeve tops: I purchased these during the Nordstrom sale but was just able to start wearing them as our mornings have been cooler. They are the best long sleeve athleisure tops I have found.
Large Lululemon belt bag: I somehow lucked out and checked the website at the right time and these were in stock! They aren't linked now so I linked my review but 10/10 recommend.
Amazon exercise dress: I have talked about this a few times but this is a great dupe for the Outdoor Voices dress and a fraction of the price.
OPI Tickle My France-y: Not technically a purchase but I did get the dip version of this at the nail salon recently and I think it's my go-to fall color now.
Dae Shampoo and Conditioner: A really great and clean shampoo and conditioner, and my hair smells amazing.
Rare Beauty eyeliner: I was sent this in a PR package but just repurchased it on my own. Probably my favorite liquid liner!
Lululemon funnel neck: I have 2 of these and they are so good for the fall/winter time. The perfect weight and look adorable on.
All in one charger: Andrew had this and I copied him! Charges my phone, watch, and Airpods at the same time! You can also fold it and travel with it.
Nightgown: I mentioned to one of my best friends that I wanted a cute nightgown and she suggested this one. You guys it is so good! It's beyond comfy and really cute on!
What is a recent purchase you have loved?