We live in a pretty averaged sized house, but no matter where I have lived, I have struggled with small bathrooms. Seriously I think I am cursed. While our bathroom is a lot bigger than the bathroom I had when I was single, it's set up very awkwardly and there is not much storage space. I wanted to share my best bathroom organization hacks with y'all because I know I can't be the only one with this struggle.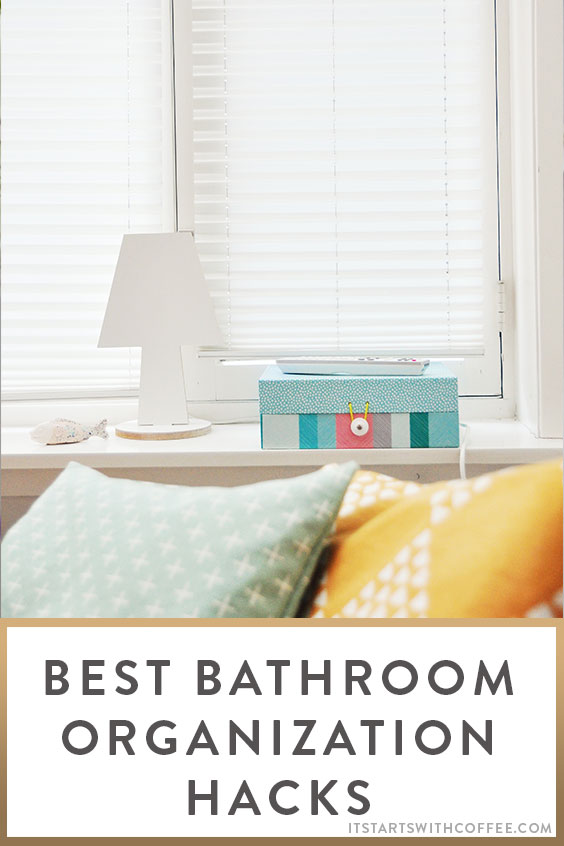 Best Bathroom Organization Hacks
Use Your Space: So even the smallest of spaces can have gems to them. For instance my side of our sink(we have double sinks) is right next to the LARGE (somewhat unnecessary) bathtub we have. I have a little side area of the bathtub that can't be seen easily and it's a great place to store my Clarisonic, water pick, and flat iron when I am not using them. Since these are items I use most days I didn't want to constantly have to take them out. Plus they need to be plugged in often and there is an outlet right above that space. We also have our master closet through our bathroom and that door became a great spot to put towel hooks. We also installed a cabinet on the wall next to my sink q(it doesn't take up room). Even with the smallest and most awkward of spaces you can utilize your space.
Buy ONLY useful things to help: It can be so easy to get caught up in the organization section of any store. GUILTY! But y'all ONLY buy useful things that will help you. One thing I use a lot are baskets under my sink. I keep all hair tools in one, extra products in another, first aid in a third. I also bought some clear drawers for the makeup I use daily. If you have a small space the more you buy the more cluttered it will seem. Which brings me to…
Keep ONLY what you need in your space: Would I love to have ALL my makeup in my bathroom? Sure. But do I need 10 palettes in there? Nope. So I keep ONLY what I use most of the time in my bathroom and everything else meticulously organized in my office. I also don't keep a ton of extra toiletries in my bathroom. We have storage in another closet where we keep excess things like toothpaste, shampoo, and soap. This cuts down on a LOT of clutter. We also do not keep cleaning supplies in our bathroom. We keep them under the kitchen sink until we need them. The same with extra towels, sheets, etc. These are NOT things that need to be kept in a bathroom. Thankfully our house has excess closet space so there's tons of room to organize and store these items.
Mirrors: Do you have walls you aren't using a ton? Are they blank? If you add simple mirrors like this one it immediately makes any small space look bigger. TRUST ME!
Keep It Tidy: Want to know my biggest of my best bathroom organization hacks? Keep your bathroom tidy! If it's a small space it will immediately look smaller if it's messy. I am so anal about keeping it clean and tidy and that's because there's not a ton of room.
Those are my best bathroom organization hacks. They are pretty no-nonsense but after years and years of small bathrooms I've become a pro!
What would you add to this list?