I have always been someone who needed alone time. Me time if it were. I think it's important to like being alone and like spending time by yourself. Even if you are married or in a relationship, in the words of Carrie Bradshaw "The most exciting, challenging and significant relationship of all is the one you have with yourself." I have always loved that quote because it's so true. Today I am sharing 35 ideas for me time. Enjoy!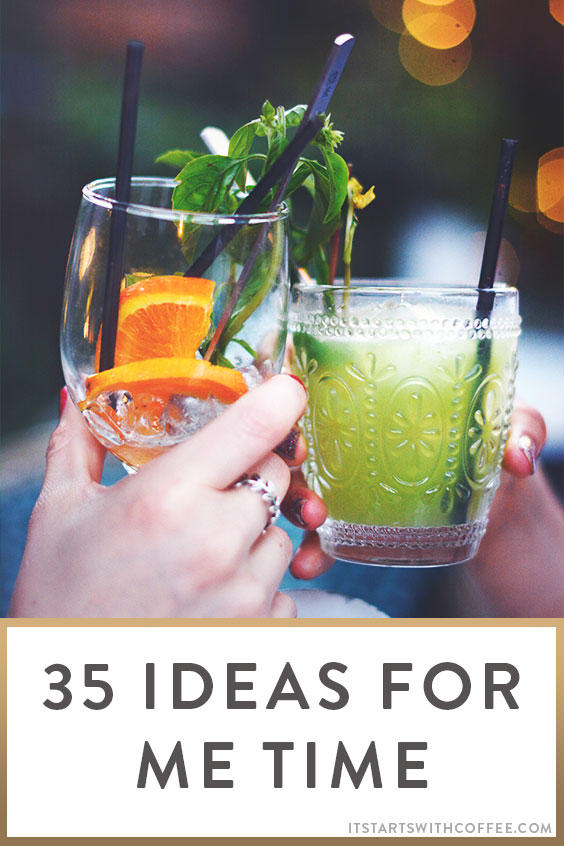 35 Ideas For Me Time
Mani/Pedi's
Take yourself to a movie (My favorites are Friday early mornings — theaters tend to be empty)
Go wander around a book store
Go shopping
Check out a museum or exhibit
Go to a concert if you really love the band
Go see a speaker or author
Walk around an outdoor area
Go for a long walk/run on a trail
Try a new workout class
Work on a DIY project
Have a spa day
Take yourself out to lunch
Have a glass of wine and a bubble bath
Binge watch your favorite show
Clean out your closet and find buried treasure
Get your makeup done
Get a blow-out
Watch a documentary
Volunteer
Go for a hike
Do some outdoor yoga
Go for a swim
People watch
Buy yourself some flowers
Grocery shop for healthy foods for the week
Window shop
Sit in a coffee shop and read/write
Explore a new city/town
Write a letter to your future self
Travel alone
Try on clothes/discover new outfits
Watch one of your favorite movies
Paint your own nails/toes
Play around with makeup/skincare
Me time is important and I hope you take some time each week to have a little me time for yourself.
What are some of your ideas for me time?