I have probably talked about green smoothies on my blog 100 times. I love them, I swear by them, I have one every single day. I get asked all the time for my recipe or what recipe I use. Over the years I have for sure tweaked it and changed it. So today I am sharing my recipe with you guys for the best green smoothie!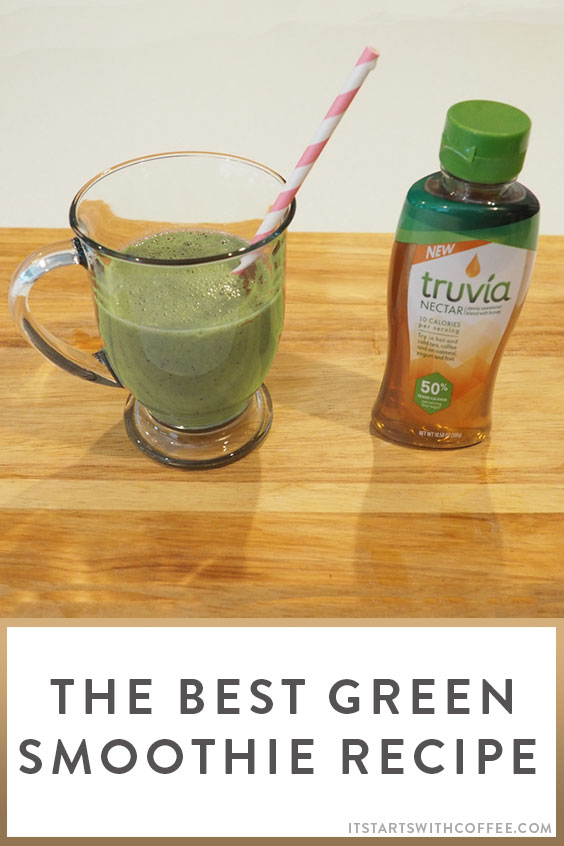 The Best Green Smoothie Recipe
What You Need:
1/4 cup of blueberries (fresh or frozen)
1/2 cup of strawberries (fresh or frozen)
1 whole banana
1/2 apple (optional)
2-3 handfuls of greens (spinach and kale)
About a tablespoon of Truvia® Nectar
5-6 ice cubes
1/4 cup liquid of choice (skim milk, almond milk, soy milk)
1/4 cup Greek yogurt (optional)
1/4 cup of water
Blender of choice,-for reference we use this vitamix
*Things you can add: grapes, pineapple, mango, peaches, raspberries. All things that taste REALLY good in the smoothies! Any combo of fruit works!
What You Do:
Add all ingredients into the blender in any order
make sure to add water LAST
blend and serve
*Yields two large cups or 4 small cups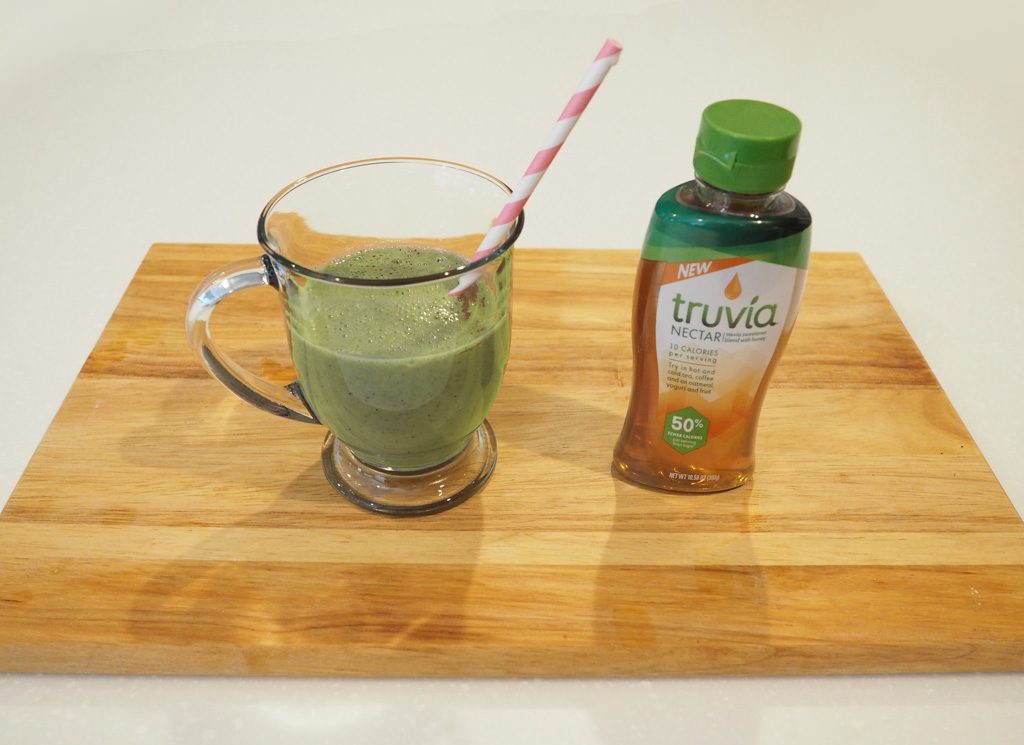 We love using the Truvia® Nectar in our smoothies to give it more of a sweet taste! The greens tend to make it taste a little bland and the Truvia® Nectar really helps make it more of a treat. Truvia® Nectar can be found at Target and is the newest addition to the Truvia® line of great-tasting sweeteners made with stevia leaf extract, the sweetest part of the stevia leaf. Truvia® Nectar is ideal for use in foods and beverages where honey sweetness is desired with fewer calories. It can be used anywhere honey is used, including hot and cold beverages, oatmeal, yogurt, fruit, baked goods, sauces and dressings and more like Smoothies! Truvia® Nectar is the perfect way to replace honey's calorie content without replacing the sweet taste, and is a great option for those looking to manage their calorie and sugar intake without sacrificing sweetness.
I started making green smoothies in May of 2010 after reading about them on a healthy living blog. I quickly turned everyone in my life on to them. My mom now makes them everyday, and Andrew enjoys them with me and has since we've been together. I love them for a few reasons. For one there are times these are the ONLY veggies I eat in a day. I like vegetables, but I am not one to gravitate towards them. While I do love fruit, this is a great way to ensure I get enough of it. The second reason is they are quite filling. They make an excellent snack mid-morning or mid-afternoon, and you could even have them for breakfast or with lunch.
I hope you enjoyed the best green smoothie recipe! Let me know if you try it! Also if you want to try Truvia® Nectar here is a link to a free sample!
I would love to know if you are a green smoothie drinker?
This is a sponsored post with Truvia Nectar. All opinions are my own.