I am a huge reader. If you have been reading this blog for a while you know that I love to share my favorite reads. Today I am sharing the best personal growth books for 20/30 somethings that I think you will find super helpful!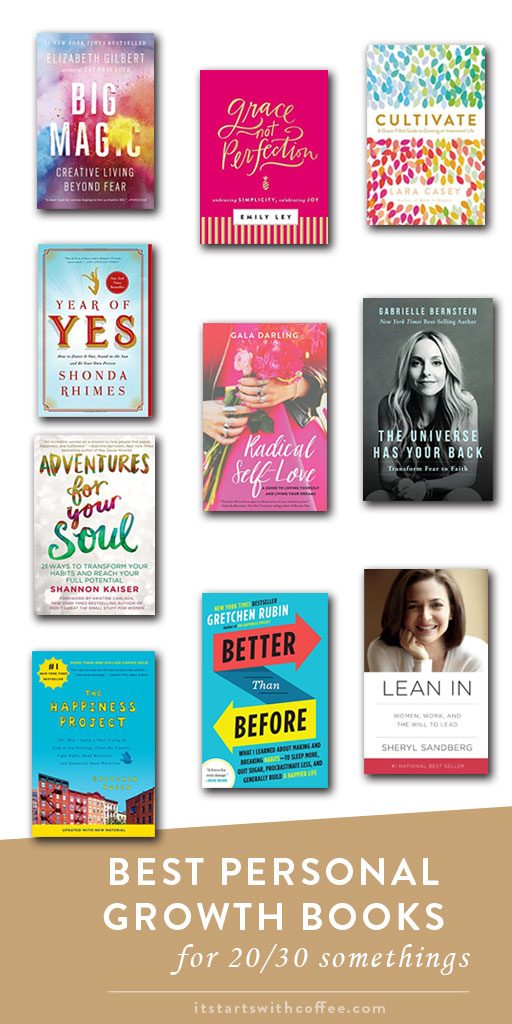 Best Personal Growth Books For 20/30 Somethings
Big Magic is SUCH a good book. I have it on a few of my reading lists. It's perfect for anyone in the creative field.
I found The Year Of Yes to be extremely relatable. If you LOVE Shonda Rhymes and want to learn more about her life as well as how you too can have a year of yes then read this.
I recently picked up Adventures For Your Soul after hearing rave reviews about it. I love reading these types of books and this was one I had been wanting to read for a long time. Having an Amazon gift card was a good time to grab it!
I read The Happiness Project in 2011 and I have read it twice since then. You don't HAVE to start it in January but if you are looking for something to read a little bit of each month it's laid out in month form and really really helpful!
I'm a huge Emily Ley fan. I love her planners and her Instagram and blog but I REALLY REALLY love her books. Grace Not Perfection was one that really spoke to me. As someone who really has always been very Type A perfectionist it was super eye opening.
Radical Self Love was sent to me in a press package and I loved it! If you are someone who needs some more self-love (which we all do) this is for you!
Better than Before is another Gretchen Rubin book that is a must read! It's all about better habits and really encouraged me to change mine.
Do you feel like you constantly need to have your sh*t together? Yeah we all do. But Cultivate is a great read to remind us that no one has it all together and as women we have to stop putting so much pressure on ourselves.
The Universe Has Your Back is a great read especially to remind us that we can't let fear of the unknown run our lives.
Lean In is something ALL WOMEN need to read. Especially women in a workplace full of men.
I would love to know if there are any books you'd add to this list of best personal growth books.