We have been a diaper bag carrying family for a year now and things have for sure changed in that time. Now that Liam is a toddler and requires a LOT less stuff we don't use a giant bulky diaper bag. So today, along with sharing a bit about our diaper bag I am sharing our diaper bag essentials.
Diaper Bag Essentials
First of all we use the Fawn Designs diaper bag which I love because it can be worn a variety of ways! I wear it as a backpack and I LOVE it. It doesn't look anything like a diaper bag and I have the gray with gold hardware. It's so stylish and cute and the size is PERFECT! It can be worn as a crossbody or just on your shoulder as well.
For Me:
I keep my keys, wallet, lip balm and phone if I don't carry a purse which depends on where we are going!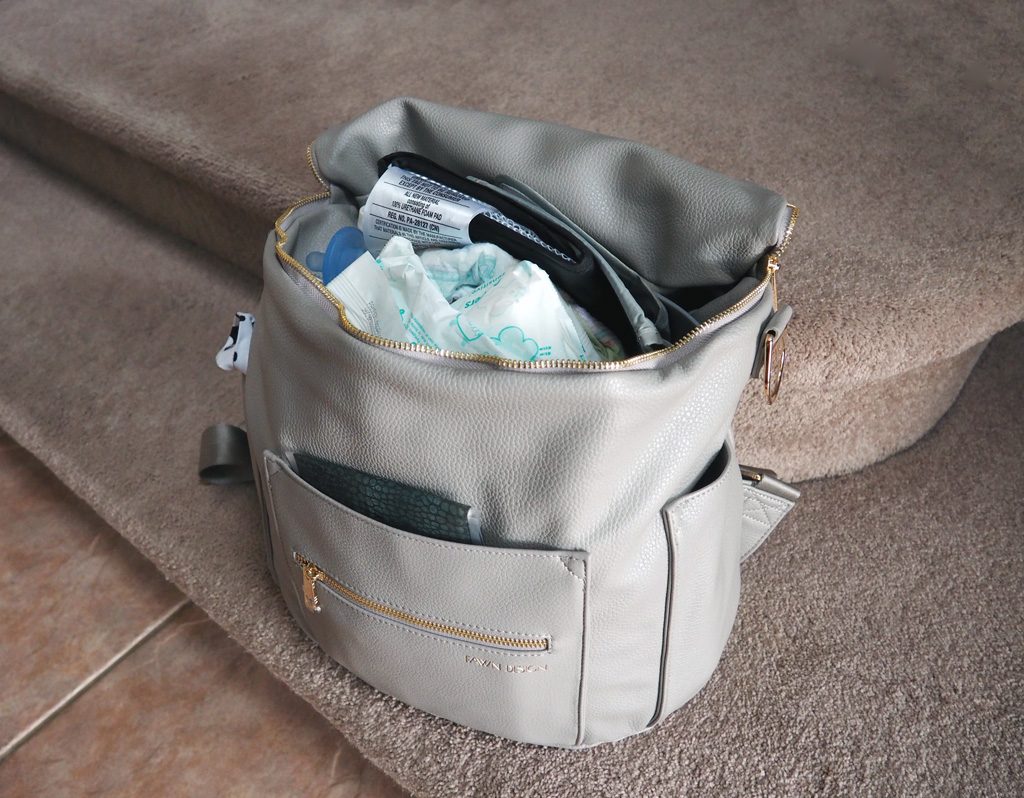 For Liam:
We obviously keep diapers and wipes and LOTS of them! I have been the mom at the pediatrician who didn't have diapers once. We also keep these tiny trash bags that are great for disposing of dirty diapers!
I always have an extra pacifier and pacifier wipes because this kid will throw his paci in places like the mall or Target and no that's not going back in his mouth without being cleaned.
I always keep a milk snob cover if I need to cover him in the stroller in case we are in a really sunny place or the pediatrician because of germs.
We usually have a variety of snacks like pouches, Annie's crackers, and fruit and these snack catchers are great for Liam being able to feed himself without spilling everywhere.
We are still slowly weaning off bottles so we usually have at least one bottle and one sippy cup!
We also keep a bib- the Oxo bibs are our favorites.
Also we have to have a few toys. Liam loves this coffee cup toy/teether and anything with tags. He has a taggie book and a few taggie loveys. Then of course a wubbanub or two!
If you are a mama of a toddler I would love to know what you keep in your diaper bag?
Thank you Fawn Designs for sponsoring this post.