I feel as though I discover and rediscover beauty products all the time. I have a huge drawer set from Ikea in my office full of makeup, skincare, haircare, and more that I get sent, and I try to test out products as often as possible. This is how I find new favorites and how I found most of my current favorite beauty products for summer.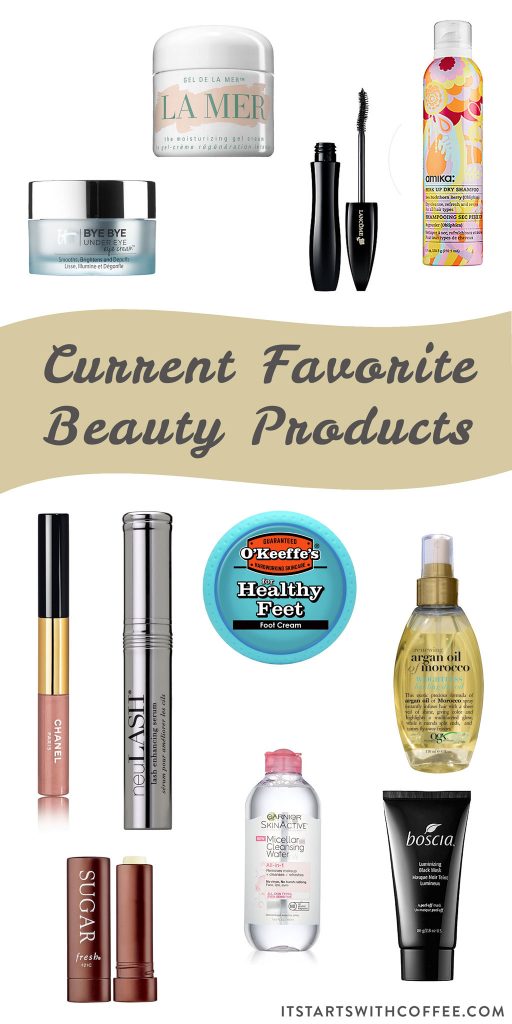 Current Favorite Beauty Products For Summer
Hair: I discovered the Amika dry shampoo about 3 years ago at The Makeup Show in Dallas. It was in my press bag and I quickly fell in love. It's something I continue to repurchase and is in my opinion the best dry shampoo out there. Every single time I wash my hair I spray the Moroccan Oil by OGX in my wet hair and then blow dry it. I love how silky soft it feels after.
Skin: La Mer sent me an amazing box of goodies a few months ago and the moisturizing gel cream (Nordstrom Sale) was inside. I love this stuff! I do not use it every day because I want it to last a while and you really don't need much, but it makes my skin feel so soft. It Cosmetics has 2 amazing under eye creams that I love. Confidence in an eye cream and bye bye under eye eye cream. I use both (not in the same days) and they are worth it! The best eye creams I have ever used. I have no idea what took me so long to start using Micellar water. I use it to take off my makeup before I wash my face and I noticed such a difference in my skin after. It's amazing! I am someone who always seems to have dry skin and to keep my feet soft I use the O'Keeffes Healthy Feet every single night. I put it on and put socks over it and let it soak in for about an hour. You guys it's a game changer! They also have a hand cream that's pretty amazing. Something I try to do at least once a week is a face mask. The Boscia Luminizing Black Mask is my fav. It really gets all the gunk out of my pores and makes my skin feel amazing!
Makeup: One of my favorite things to apply daily is mascara. If I do nothing else I do brows and mascara. Recently I have been reaching for my Lancome Mascara (Nordstrom Sale). I go back and forth with this and I always remember why I love it so much when I rediscover it. I briefly mentioned Neulash (Nordstrom Anniversary Sale!!!) a few months ago and since I started using it I am loving how much thicker and longer my lashes have gotten. My two current favorite lip products are this Chanel Duo of a matte lip and a gloss and the fresh sugar lip treatment (Nordstrom Sale!) . This is something I keep in my purse, bathroom, by my bed, and random places throughout our house so I always have some.
What are your current favorite beauty products for summer? Share below!