One thing that is prevalent in the summer months is more travel. We have lots of summer trips happening, some bigger and some more local/road trips. One thing that is for certain is that even with travel I like to stay on my healthy living routine. I want to eat well, exercise daily, have my green smoothies, etc. So I am sharing my tips for how to stay healthy while traveling.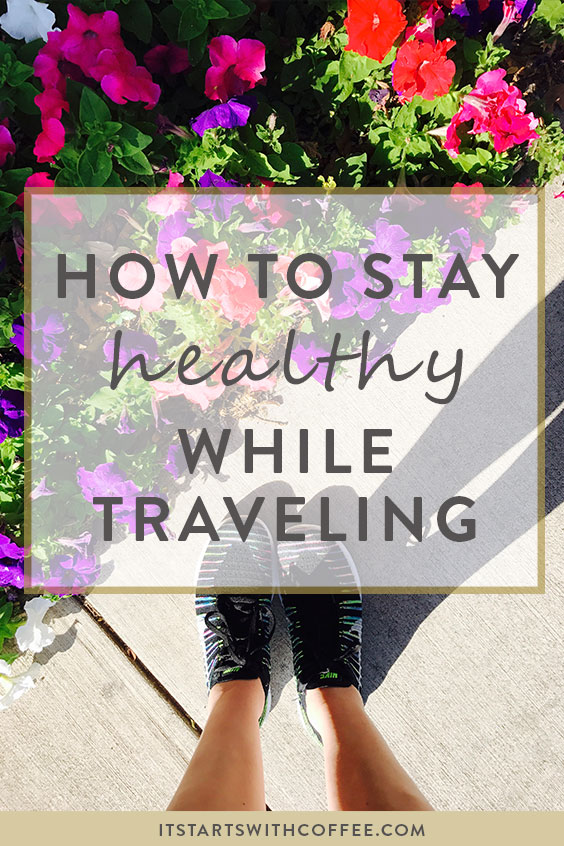 How To Stay Healthy While Traveling
Prepare Ahead Of Time: For me this means I try to know if I will have time to work out each day, if so when. Also, will we be staying somewhere where I can cook/grocery shop or will we be eating out for each meal? If we are eating out, what are the healthy options or how can I make things healthier? Yes this takes a lot more work but I feel a lot better going into a trip.
Take What You Can: When we go somewhere we can drive I always take my Pure Barre ball, band, and 3 lb weights so I can do Barre classes online (YAY for Pure Barre on demand!) This I can pretty much do anywhere. Even if we don't drive I just use a small towel as a makeshift ball and still do the arm workouts without weights. No excuses to miss a workout! Plus there are a TON of no equipment workouts on Pinterest and walking/running involves nothing extra!
Research What's Around You: I love to take workout classes when traveling so I always see what classes might be offered that I don't have near me at home! Great time to try new things. If you are going somewhere where you can hike, paddle board, etc that maybe you can't do in your city that's a huge bonus.  As far as food, I always like to find out where a great salad place is, is there a smoothie place, a juice bar, and Whole Foods? Where is the nearest grocery store to get some basics and healthy snacks? Knowing these things will free your mind!
Make The Time: Listen, I know when traveling you just want to relax, eat all the foods, and do nothing. But if you make the time to get a workout in and make the time to eat healthier you won't come back from vacation full of regret. Been there!
Don't Go Crazy: I will admit I love to try local foods and splurge a little on a vacation. I mean that's what they are for right? But don't go crazy. Maybe don't have a decadent brunch every single day or all that mac and cheese for dinner every night. Save it for once or twice.
But Have Fun: But it's still vacation so have fun!
What do you do to stay healthy while traveling?