Working with a baby is hard. I've talked about it here how I get work done with a new baby. But there are things that help me work smarter, which means I get more done and feel a LOT less stressed!
5 Things That Help Me Work Smarter
Apps: Using apps for my blog that REALLY help me work smarter are Tailwind, Boardbooster, Buffer, and Planoly. These are great to schedule and plan social media content and can be done in batch work. I try to spend one day a week scheduling pins, tweets, and Facebook posts.
Editorial Calendar: I have spoken at great lengths about my love of editorial calendars and why they are necessary. I work smarter with them because I see exactly what needs to be done when. I can plan out content months and months ahead of time and know what needs to get done, when and how. This is also helpful with sponsored content. If you do not currently use an editorial calendar you should change that.
Batch Work: Like I mentioned above, I schedule social media in batches. I also take photos for Instagram and my blog this way. I tend to take about a months worth of photos over the span of a weekend. This way they are done, edited, and on my computer so when I am writing I can easily grab them.  Doing batch work can really streamline you blog.
Smart Snacking: When I am doing batch work I tend to focus for 5-6 hours straight. This can mean I forget to eat sometimes. Hey it happens. Especially if I am gulping down coffee. I have been addicted to Pistachios lately. They are a smart, healthy snack and I love them. Thankfully I have Wonderful Pistachios on hand to fill that love. These are perfect to keep in my work bag. If I am working from home I have them handy and they are very easy to take with me to coffee shops, or anywhere I am getting work done outside the house. This helps me work smarter because I am snacking smart, eating something healthy, and I am able to easily stay focused. These would be a great snack to take and keep in an office or at your house to grab when you need something to munch on. I also love that Wonderful Pistachios have a No-Shells variety in Roasted & Salted and Lightly Salted flavors. Perfect for when your hands are full with a baby and you need a snack or to put on yogurt or in a salad! As I have talked about I am working really hard to lose the baby weight so this is great for me because I can satisfy cravings for something savory and crunchy without compromising my healthy eating goals.
Have you heard of The Pistachio Principle? The Pistachio Principle is a simple mindful eating concept that may help you fool yourself full without feelings of deprivation. Because pistachios are in-shell, they may help to slow down consumption time. The empty shells may serve as a visual cue reminding snackers to eat mindfully. They are also one of the highest protein and fiber snack nuts that are part of a heart-healthy lifestyle and one of the lowest calorie and lowest fat snack nuts. Wonderful Pistachios are the perfect snack to stock your work snack drawer with!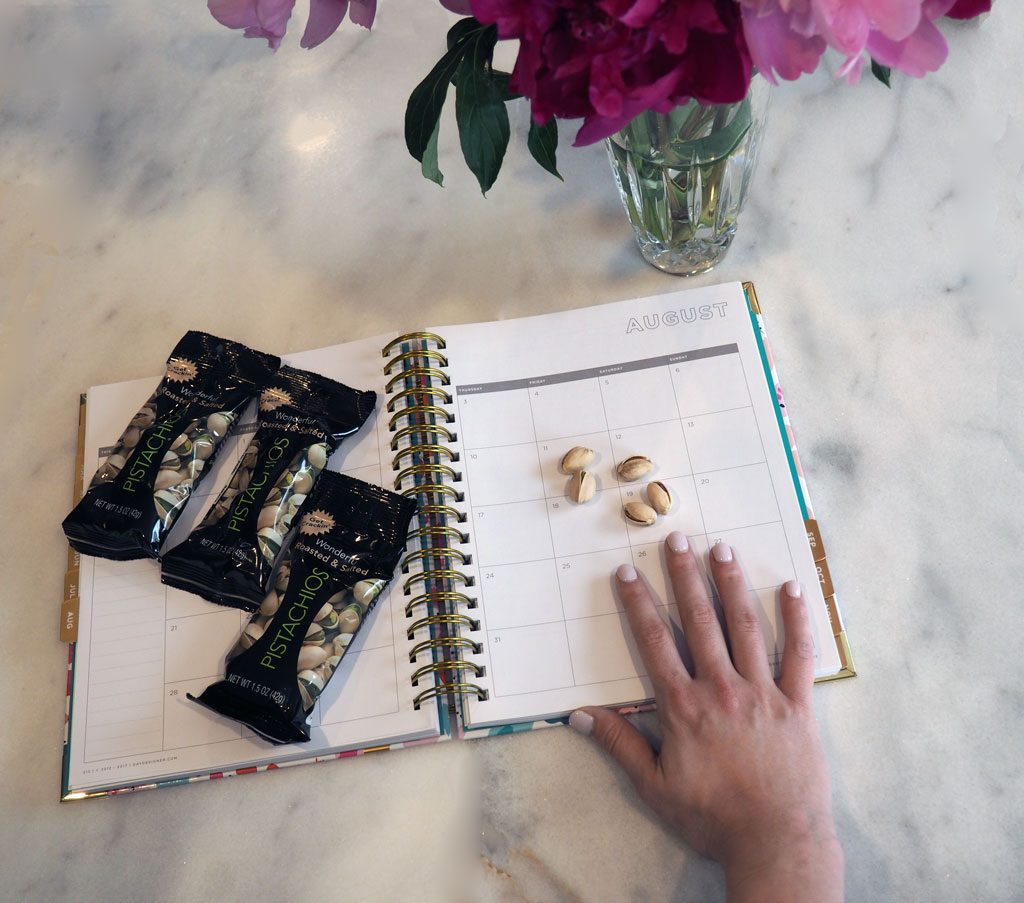 Routine: I stick to a pretty solid routine. The days I have help I make the most of the hours and work as much as I can. On weekends I get other things done that I need Andrew's help with, like blog photos. This routine works great for us. Having Liam on a good routine means the rest of us are on a good routine.
What do you do to help you work smarter? 
This is a sponsored conversation written by me on behalf of Wonderful Pistachios. The opinions and text are all mine.