Happy Friday friends! Also, happy Valentine's weekend! Whatever you are doing this weekend I hope it's fun! I have a friend date this morning and a date with the husband tomorrow night! Both are to movies, which is one of my favorite things to go do! It's been a hot minute since I have shared current favorites with you guys and these are all things that I have been OBSESSED with lately!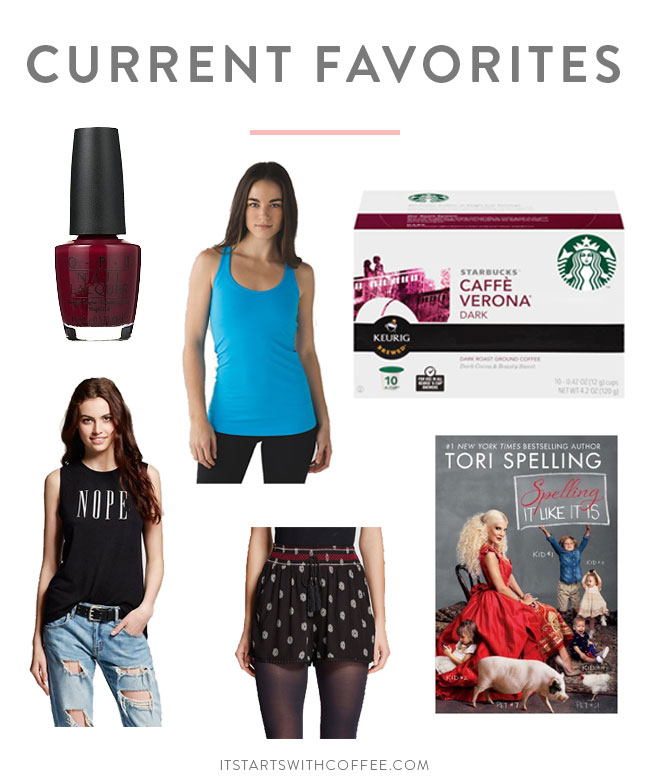 Target Finds: So before we left for our cruise, I of course had to go to Target to pick up some necessities. I found a cute swimsuit, but my favorite find was these shorts pictured above. I put them on one night for dinner with Andrew on the cruise and he right away complimented them. I told him they were from Target and he was shocked. His first thought was "they look really expensive." Not only that but the quality is incredible! They are also comfy and versatile. Oh and for less then $20? Win! The next Target find was this NOPE muscle tank. Perfect for working out and for throwing over a swimsuit. Also just perfect.
Pedicure Love: I have been wearing Malaga Wine on my toes for the past 4 months straight, aside from the week on our cruise where I wore Cajun Shrimp because it's beachy. Malaga Wine is the perfect year round color. It's a beautiful wine color and my salon ALWAYS has plenty in stock!
Top Me Off: So this is not a recent find but it's a go to. I love the cool racerback tanks from Lululemon. They are always the ones I gravitate towards in the store. They are breathable, semi form fitting and oh so comfy. They are also longer for us longer torso girls. I have about 8. Excessive? Who cares.
Coffee Coffee Coffee: Said like Lorelai Gilmore. When Starbucks sent me a massive box of awesome I had some Starbucks Caffé Verona K-cups included. Andrew and I basically have to fight each other for them some days. We can't get enough and they are perfect weekend additions to my coffee rotation. Fun Fact: Starbucks created Caffé Verona for a Seattle restaurant to be paired with a luscious chocolate cake dessert. When it was created, in 1975, it was named "Jake's Blend" and customers began asking for the unique coffee in Starbucks stores across the nation. With so much love for this special coffee, it's fitting that it was later named after Verona, Italy which was the setting for Shakespeare's Romeo and Juliet (insert "aww" 🙂 ). BTW there are some OH SO ADORABLE Valentine's mugs and tumblers if you need a last minute gift for a friend or a hint to a husband 🙂
Read Me: So over our vacation I read a lot. But guys I did not read anything jaw dropping or intelligent. Nope, I read actual crap. But in the best way possible. I read Maci from Teen Mom's book and Tori Spelling's second two books. Why? Because I can! Sometimes you just need to read stuff that is fun and light. Just like sometimes you watch The Bachelor. Don't you judge me! If you need more book recs check out this post of my favorite books of 2015.
Current favorites are for sure a little random, but I always love reading what other peoples current favorites are.
Leave your current favorites in the comments!
Starbucks image provided by Starbucks Coffee Company. Disclosure: I am a Starbucks Coffee Blogger for the next year. I am not paid but I am sent product from time to time.