Fall is right around the corner. I mean, if how fast summer has gone by is any indicator, it will be Halloween before we know it! With season changes comes new routines and new ways of doing things. I am one of those people who loves seeing what others morning and night routines are. My fall night routine is nothing crazy, but it's what works for me.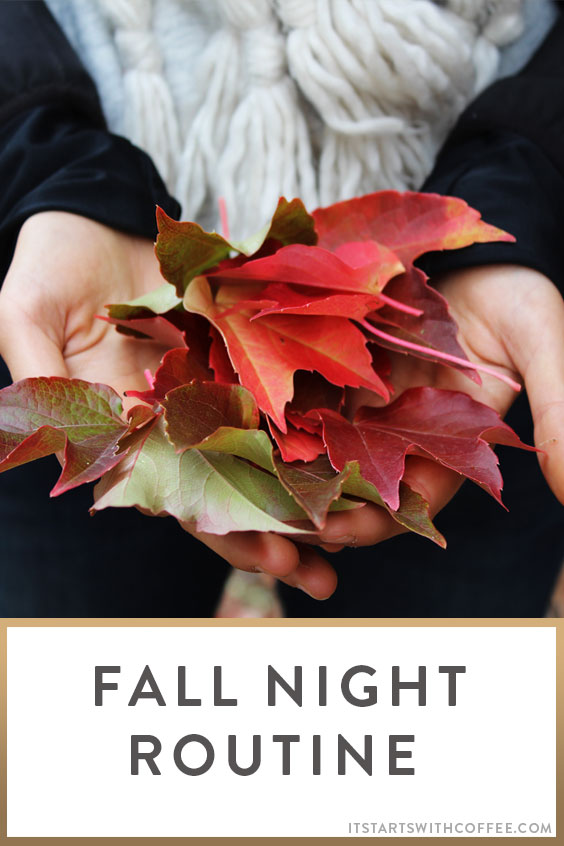 We usually eat dinner around 6 or 7. The post dinner complaining about how we have to clean the kitchen then kicks in. Lately, I've been using the "but I'm pregnant" excuse to try to get Andrew to clean it more. He happily obliges. We do end up cleaning the kitchen together. Then we straighten up the living room.
To get ready for bed I usually brush my teeth first. I try to do calf raises while I brush my teeth because I feel like I'm getting a little activity in even though I work out every morning.
After I brush and floss, I always always morning and night rinse with LISTERINE Healthy White Mouthwash. I can't really do major teeth whitening while pregnant, so this is a great thing for me to use and my doctor said it is safe! WIN! I love the way my mouth feels after too! LISTERINE launched their Bring Out The Bold campaign this year so make sure to check that out. We have both been using LISTERINE products for years and years and happily continue to do so.
Next I do my nighttime skin care routine. This starts with me washing my face with Neutrogena Foaming Face Wash and my Clarisonic (every other day). Then I put on my nighttime serum which is Fresh Rose Serum. I then moisturize with Cereve. I put eye cream on twice a day, and lately I have been using the First Aid Beauty 5-in-1 eye cream. I really love eye duty triple remedy but Sephora was out of it and I'm a huge fan of the 5-in-1 cream now.
I always brush my hair and put it in a loose bun and then apply a lot of chapstick, either Softlips or Bite Agave.
Then I take my prenatal vitamins and do some stretching before I get in bed.
I try to read for a bit and we usually watch something on the DVR. Then it's time for sleep!
If I am having trouble falling asleep, I will sometimes make some calming chamomile tea, which is great and helps with relaxing.
See simple, easy fall night routine.
I would love to know what your fall night routine looks like!
I'm partnering with #LISTERINE as part of a LISTERINE® sponsored series for Socialstars™