As someone who truly just LOVES to read I have noticed that book Instagram accounts or bookstagrams as they are called are becoming some of my favorite follows. I also love listening to podcasts that talk about books. I wanted to share a few of my favorites book Instagram accounts and podcasts with you guys and why I love them so much.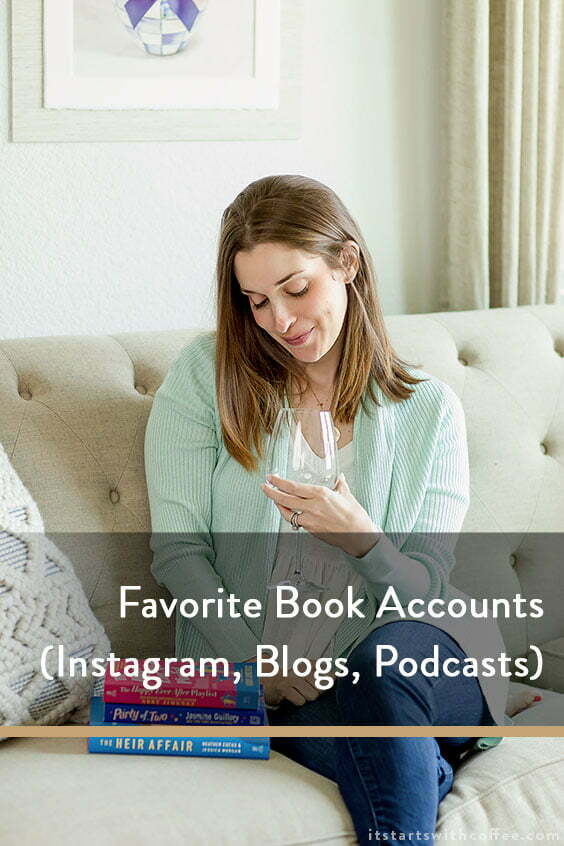 Favorite Book Accounts (Instagram, Blogs, Podcasts)
The Stripe: Grace is one of my favorite bloggers out there. She recommends amazing books on her blog and Instagram (and podcast but more on that below). She has her book posts broken down on her blog by category so it's a great place to find reviews and book ideas.
Bad On Paper: A podcast from Becca Freeman and Grace Atwood. Probably my favorite podcast to listen to. They cover a wide range of topics from politics, friendships, business, as well as books. They always talk about what they are reading and I always find great accounts to follow and books to read there.
NYC Book Girl: She has an amazing bookstagram. She reviews books and just has such a cute personality.
Sarah's Book Shelves: I love her Podcast and just started following her on Instagram too! She gives great recommendations
Ashley Spivey/Spivey's Book Club: I love Ashley Spivey as a follow, books or not, but she has a great book club on Facebook and Instagram where she interviews authors, reviews books, and also throws in other things important to me like politics.
The Stacks Pod: Great podcast by Traci Thomas. She interviews all sorts of people from authors, influencers, people in film and TV. She talks books and GREAT books at that. Any book I have read from her suggestions I have loved.
Carly's Book Club: Carly the Prepster started a bookstagram a while back. I have always appreciate her book reviews and I love seeing them all in one place. She has seriously great recommendations and while I do not always agree with them I do find great recs from her.
No More Shitty Books: Their tagline is "the stuff you actually want to know so you can stop wasting your time on shitty books." Boy is that true. I hate when I read an overhyped book and its crap or I can't find a great book to read because it's not on any lists. That is why I love this account. Cut and dry!
Books and Margs: The newest account I followed on this list and I just love Jessica. She's a mom too and reminds me of my girlfriends I chat books with. Drink ideas and book reviews. What more can you want?
I would love to know what your favorite book accounts are that you follow and what else you'd recommend! Leave them below!