This blog post is in partnership with Macy's. All opinions are my own. 
Andrew jokes that in this house there is a clear morning person and a clear night person. The morning person would be me. I am happy to wake up at 5 AM and take joy in getting tons of things done before noon. Some days I get my entire to do list done before noon and nothing feels better! I do get asked from time to time how I am such a morning person. The truth is I take after my dad. He is a huge morning person. That's not to say I don't enjoy a lazy morning every now and then, but at minimum Monday through Friday I am a morning person. So I am going to share how to become a morning person in 5 simple steps!
How To Become A Morning Person (In 5 Steps)
Start the night before: The night before make your to do list, lay out your clothes for the next day (even if it's workout clothes), make your lunch if you take it to work, you can even get breakfast started (I love overnight oats!). So many things to do the night before to make your morning smooth!
Have a routine: I am beyond a creature of habit. I wake up, check my phone (like 99% of people), wash my face and brush my teeth, get dressed (I work out in the morning so I wait to shower). Then I go in the kitchen and make my coffee (more on that in a bit) and my breakfast. I sit down and while I'm eating breakfast I check and respond to emails, share my blog post for the day etc. That is ALWAYS how I start my day. It really gets me in the mood and happy to have a great day!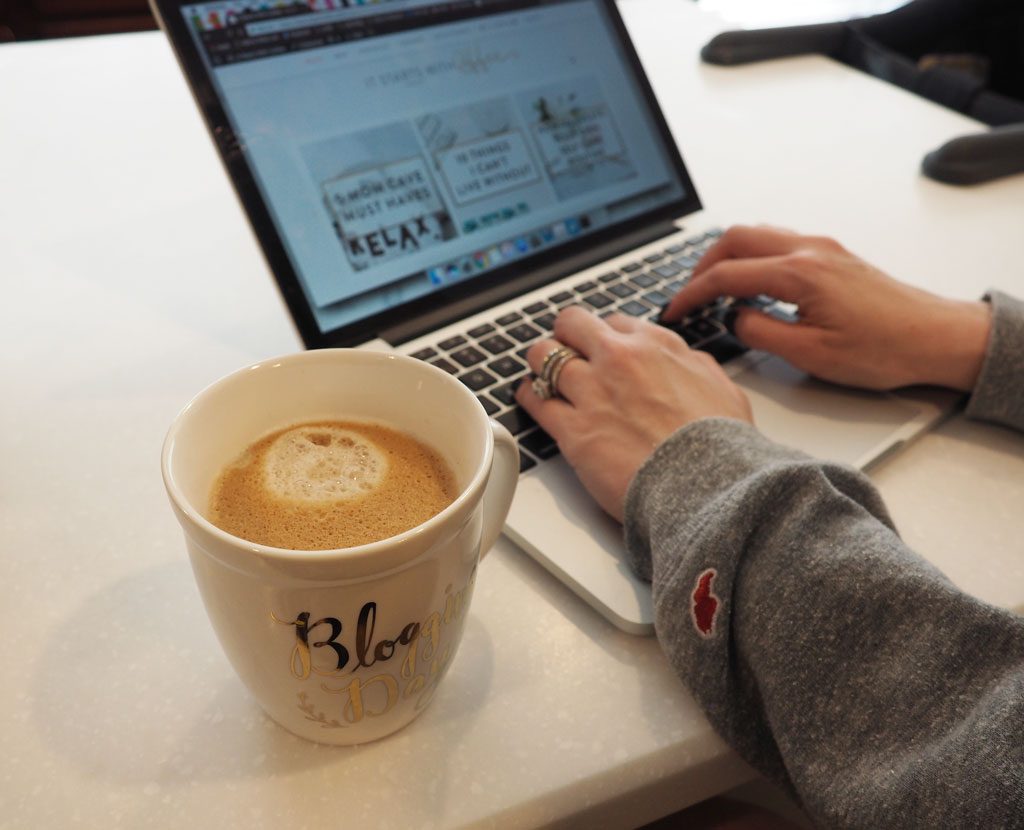 Look at it positively: I feel like a lot of people who say they are not morning people say it because of a negative connotation with waking up early. I like to look at it positively. If you wake up early you get a lot done, you don't have to be rushing around to get to work/school, you have more time for yourself if you are up early. You can get a work out in, unload the dishwasher, start a load of laundry all before most people are even awake for the day! So many benefits!
Enjoy that caffeine: If you have been reading my blog longer than 30 seconds you would know I am a coffee addict. I am not saying that as a bad thing. I love my coffee! I am super into making it at home recently because having to leave to go get coffee before Andrew leaves for work at 6AM was getting ridiculous. In partnering with Macy's I got to pick out this amazing Nespresso maker! OBSESSED! Seriously, how did I live so long without one? I get so excited to go into the kitchen and make my lattes now! Right now at Macy's they are having their Macy's Fall Home Sale!  Between 9/27-10/2. Save 30-50+ Extra! 15%/10% off electrics off with promo code Fall. Nespresso can help you make the best brew with many gourmet brewers you can find the one that fits you. Try the new NESPRESSO EVOLUO MACHINE or KitchenAid KES0504 Nespresso Espresso Maker with Milk Frothier. I chose the Nespresso De'Longhi Vertuo Plus Deluxe Coffee & Espresso Maker. We have absolutely loved it and honestly I am loving all of the pods! If you need help becoming a morning person caffeine will get the job done!
NATIONAL COFFEE DAY is September 29th! For $129.99 get the NESPRESSO EVOLUO MACHINE 30+10% off of Crux electrics. Plus the NEW Cuisinart DCB-10 Automatic Cold-Brew Coffee Maker $99.99 +Extra10% off. So many awesome deals for coffee lovers!
Exercise: I find that the days I exercise early in the morning I am a lot happier. Exercise releases endorphins and endorphins make you happy (thanks Elle Woods). So if you wake up early and work out not only is that one thing you can check off your list but you will for sure be happier and more productive all day long! Then you can enjoy that after work happy hour without the guilt too!
I hope you found my how to become a morning person steps a little helpful!
Tell me, are you more of a morning person or a night person?