I know to a lot of people Sundays mean the Sunday scaries. For me, it's a great day to get a jump start on the week ahead. I feel like having the attitude of it being a productive day vs worrying about the weekend being over will completely change your perspective. So I want to share my tips for how to prep for the week ahead!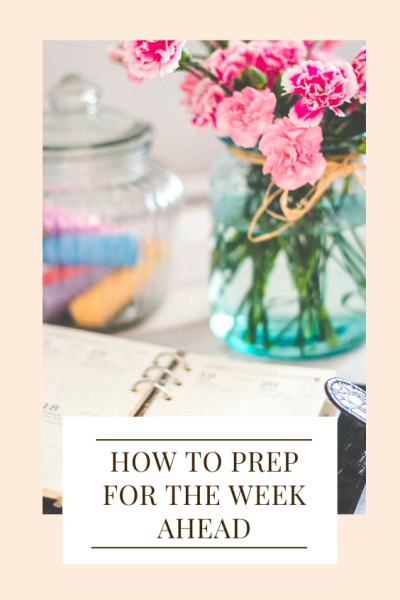 How To Prep For The Week Ahead
Know your calendar: I think one of the biggest mistakes you can make is not looking ahead at the week. Do you have a dentist appt? Does your kiddo have a soccer game? Is there a work dinner? These are things you may have put in your calendar months ago but won't necessarily be fresh in your mind. On Sundays look over the calendar, the school calendar, your husband's calendar or if you are like us you have a Google calendar and EVERYTHING is in there and make sure everyone is on the same page. It will save all the headaches on Monday night when you realize everyone has somewhere to be at 5 PM the next day.
Meal Plan/Prep: I love a good Sunday meal prep. We do our meal planning Friday nights because we grocery shop on Saturday mornings. So Sundays are meal prep days. Making hard-boiled eggs, cutting up fruits and veggies, and lots of yummy chicken for salads, sandwiches, muffins, etc. Starting the week with a full fridge and pantry and lots of already made ready-to-go food is so nice.
Make a list: I love making a good Monday to-do list. The app I use is just called "to-do list" I can have as many lists as I need so I start one for each day. That way if something comes up I can easily add it to the day it needs to get done and I don't forget. Lately, I have also been using a spiral notebook and physically writing down a weekly and daily to-do list.
Do laundry/clean up: We change sheets on the weekends, and I do a load of laundry every day. Also going to sleep Sunday night with the house straightened up is so helpful. Being organized makes everyone feel better.
Prep everyone: I mean this is different for everyone but I personally prep my kids for the week as much as possible. Getting their school bags ready with extra clothes for C, Liam's library book and folder,  lunch ready for Monday, clothes laid out, etc. Just easier. I actually have this in Liam's closet and lay out all of his clothes for the entire week this way.
Exercise: This doesn't so much prep you for the week as it does get you in a good mindset and give you endorphins to go into the week in a good mood. But it also may prep you for a really good week of workouts getting a head start Sunday!
Have a good attitude: Go into the week with a GOOD attitude. Tell yourself it's going to be the best week and it will be!
What do you do on Sundays to prep for the week ahead?
This post was originally written in 2019 and has been updated for 2023