Getting settled in our new home has been both fun and stressful! I want to make it feel like a home for my husband and kids which has been a bit tough with a renovation but still possible! I feel like there are items to make a home feel cozy that you can have that will instantly make it feel homey!
Items To Make A Home Feel Cozy
Blankets: I am a blanket person. We have so many it's kind of insane! But my favorite blankets and the ones I continue to buy are Chappywrap blankets. They are as good as everyone says. Worth the splurge 1000%!
Candles: I am also a big candle person. We do love our Pura but something about a candle burning just gives cozy vibes. My two favorite candles are Le Labo santal and the Trish McEvoy wild blueberry!
Books: Specifically for me coffee table books. I read regular books on my Kindle but I love the decor look of coffee table books. A few of my favorites here and here.
Baskets: I love the look of baskets with blankets in them. Or baskets to store kids toys etc.
Memories: For me this is pictures. We have A LOT of pictures in our home. I have always done gallery walls of photos of us and the kids through the years and that's no different in this house. We haven't hung them yet because it's only been two weeks but we plan to this week!
Sentimental items: I don't hold on to a lot of random stuff. But I am sentimental about family things. I have a few things that have been passed down to me that are reminders of my grandparents, or things my parents have given me. I also have dried hydrangeas in a vase from my wedding, bridal shower, and both baby showers.
Pops of color: I don't do bold bright colors but I love pops of blue and pink and green to our mostly neutral home.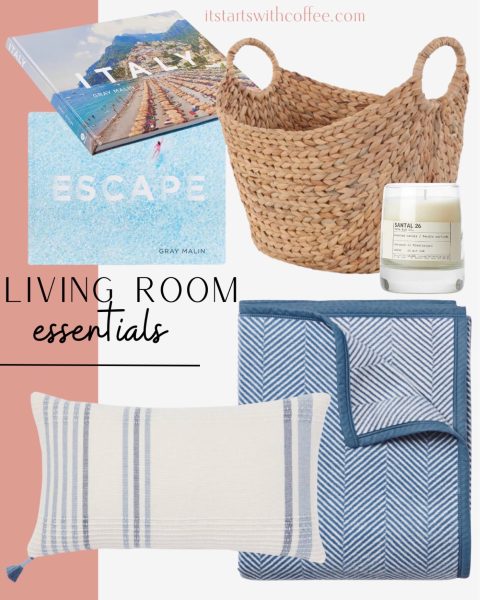 What is something that screams cozy home to you??