Do you ever think about the little luxuries that you do for yourself? These may vary person to person as to what you consider a luxury and what you do, but I have seen a few posts like this going around and it inspired me to do my own! So I wanted to share the little luxuries that make me happy!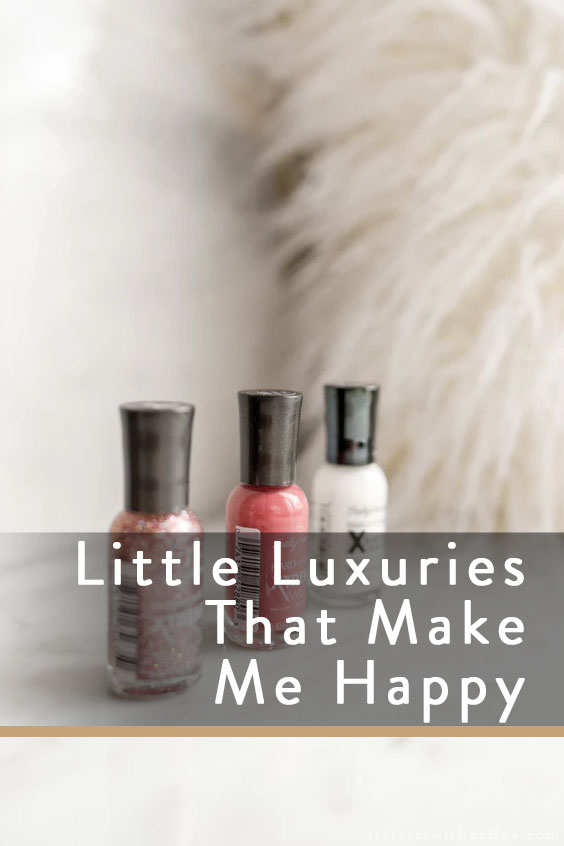 Little Luxuries That Make Me Happy
Manicures/Pedicures: I go every 2-3 weeks and get a dip manicure and pedicure. It's something I have done for many years and it's something I always tell Andrew I will sacrifice other things to do this. I am terrible at painting my own nails and I love going.
Keratin Treatments: About a year and a half ago I got my first Keratin treatment and it changed my life! I haven't been able to get one while pregnant but I can't wait to get one shortly after having this baby. The luxury of having this done is a big one. It's not cheap. But it cuts down on my hair drying time so much and I am able to do more things with that time. Without it, it takes me close to 45 minutes to dry my hair. With it, it takes about 10 minutes.
Gym Membership/Barre classes: If you have been hanging out here since the beginning you know I love to work out. It's something I truly enjoy So having a gym membership and being able to take barre classes is huge for me. Currently, we belong to our local YMCA as a family which is really cost-efficient so I am able to also take barre classes 1-2 times a week.
Coffee: Yes I could make all of my coffee at home and I probably should. But I love being able to grab a Starbucks. Don't hate me.
Movies Alone: I LOVE TO SEE MOVIES ALONE! I have that in all caps because it's oddly one of my favorite things to do and has been for the longest time. It doesn't happen quite as often anymore but recently I saw Downton Abbey alone and it was wonderful to grab coffee and veg out in a theater.
Pajama Sets: Can you tell me anything more luxurious than matching soft pajamas? I mean really. My favorites are from Lake Pajamas. They are so dang soft.
Nest Candles: Nest candles and magnolia candles are my favorite candles to buy. They smell amazing and last quite a while. They are a little more pricey so I don't buy them often.
Do you have little luxuries you really enjoy doing for yourself? Tell me below!
What is one of your favorite little luxuries?