Happy October (almost)! October is one of my favorite months and always has been. Between our anniversary, the cooler weather, and all the pumpkin things it's just such a fun month! But before we get started on all that fun I want to share my October 2019 goals and see what all I did in September which to me felt like a productive month!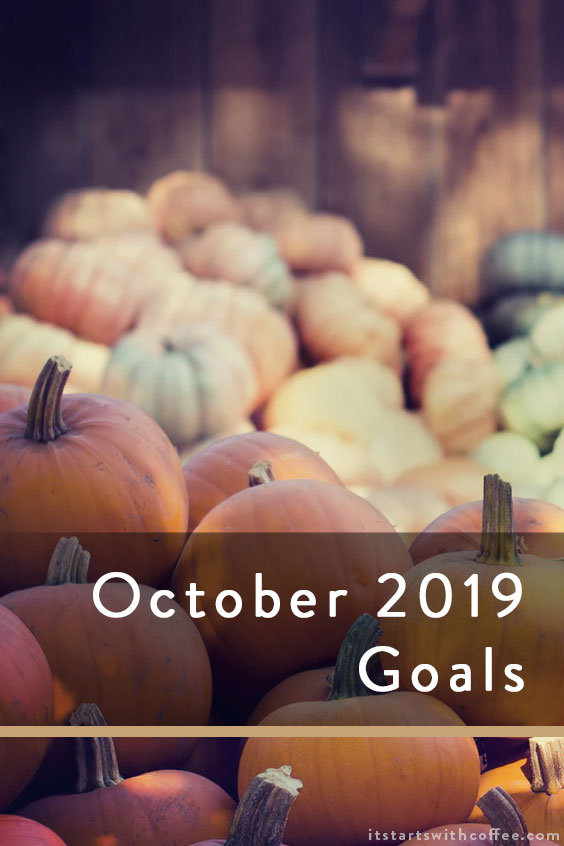 October 2019 Goals
In September I wanted to…
Read 4 books: YES! I got in quite the reading kick this month.
Get at least 10 posts scheduled towards my maternity leave: I think I am up to 30 so I feel really on top of things.
Grow 500 on Pinterest: I think I grew about 450 so definitely close.
Have one date with Andrew: Eh fail. It's just really hard. Liam was sick a TON this month with school starting.
Get shelving and art hung in the nursery: YES her nursery is about 80% done. There are boxes in there for her car seat and high chair but other than that it should be ready for baby girl once we get a few more things.
Get art hung in Liam's big boy room: YEP! It's a VERY Cowboys room. My dad had a TON of amazing Dallas Cowboys memorabilia and we hung it all. He was super generous to give it to us.
Exercise 5x per week in some form: I did this! I feel good. Even if I'm slow.
In October I want to…
Read 5 books
Finish baby girls nursery
Write thank you notes (we have two showers this month)
Do all the fall/Halloween things on our Fall bucket list with Liam
Have one date with Andrew at least (our anniversary is this month so this shouldn't be hard)
Start packing my hospital bag (WHAT!?)
Spend some quality 1:1 time with Liam
Get at least 15 more posts written for the blog
I feel like September was super productive and I am really hoping October is too!
What is one of your October 2019 goals?