I am one of those makeup lovers that either goes crazy at Target or Crazy at Neimans. I love me some drugstore makeup but I will say I do have some pricey makeup in my collection. I have shared my inexpensive makeup finds before. So today I want to share with you what I consider to be the makeup worth splurging on. You know there is some stuff out there worth splurging on and this is the stuff. TRUST ME!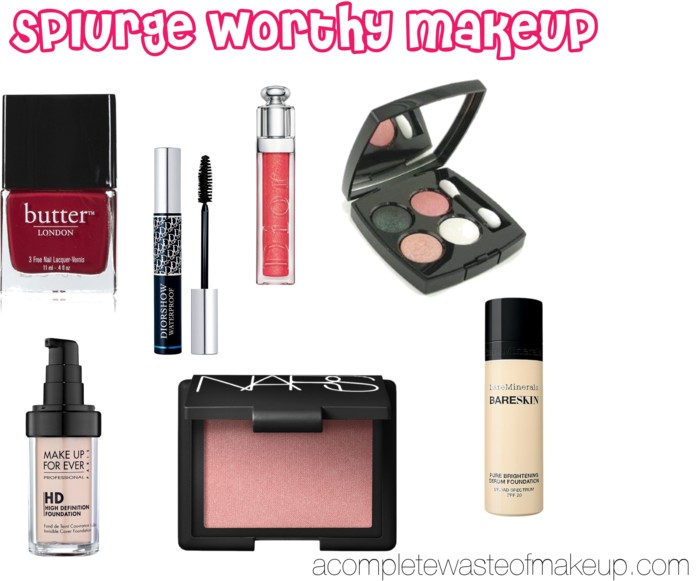 1. Butter London Nail Polish: To be fair I think most nail polish is overpriced. I mean it's nail polish people! But I do love Butter London. I go to a nail salon that happens to have Butter London and I usually gravitate towards this raspberry color in the Fall for my toes. It is perfection. Yes it's worth the money!
2. Dior Show Mascara: Oh lord. My love for this will never die. It makes my eyelashes look amazing. I will say there are drugstore  mascaras that will get the job done as well but if you were to splurge on a mascara please spurge on this one.
3. Dior Lipgloss: One of my favorite splurge purchases that I thought I would kick myself for at the time is this lipgloss. I have two a great coral color and a dark red. They are amazing, non sticky and last a long time. Basically all I look for in lip gloss. The price tag is a little hefty but you will love it.
4. This Chanel Eye Palate: I hate spending a ton of money on eyeshadow because I do not wear it super often but I bought this palate and I love it!!! It has great colors that contrast each other so well. I know you could buy a naked palate and get twice as much but still I love these colors. They look great with that Dior mascara!
5. Makeup Forever HD Foundation: One of my favorite foundations. I love this so much. It's very light and creamy and perfect for sensitive skin. TO DIE FOR.
6. NARS blush: Really any of them. I have about 8. I wish I was not so addicted but lets face it these are the best blushes around. Spend your money and pick yourself up some NARS.
7. Bare Minerals Highlighter: I love a great brightening highlighter. I have found great inexpensive ones but I love this one for days when my face just needs a little something extra. I highly suggest picking this up!
What is your favorite makeup worth splurging on?