IT'S GONNA BE MAYYYYY! Happy May friends! Hard to believe we are in the 5th month of the year. I swear it's going way too fast! Today I am here with my May goals as well as recapping my April goals. I really love doing these posts!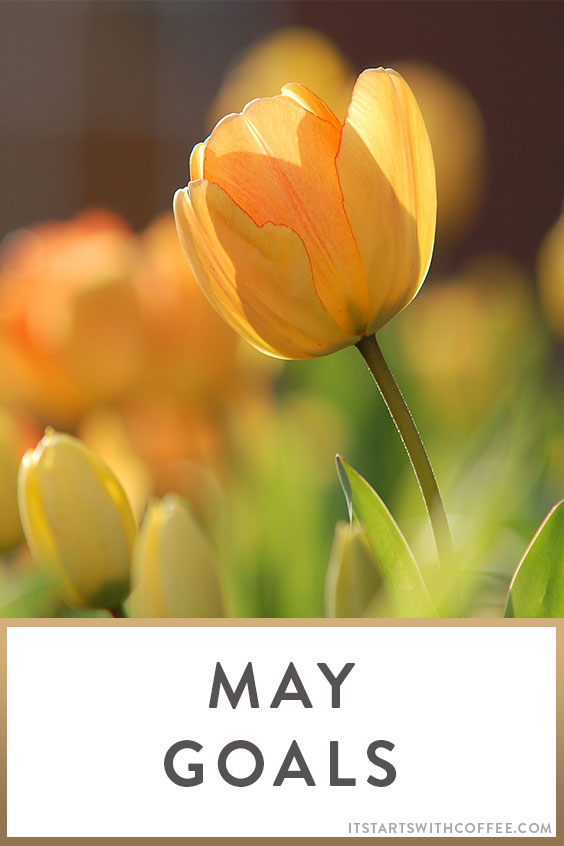 May Goals
In April I wanted to…
Cook more, maybe try a few new Weight Watchers friendly meals. Eh I didn't cook much, but we did add some new meals to our rotation. Mostly new variations of chicken 🙂 I also have been eating a lot of cauliflower rice.
Keep up with workouts, walks, and Weight Watchers (all the W's!) Yes I am doing really really good! I have averaged at least 10K steps a day, worked out either at the gym or at barre 6 days a week and not gone over my points at all with Weight Watchers! Slow and steady!
Write at least two blog posts a week. I have all my posts scheduled till July and I would love to stay ahead. I am doing really great with this. It's hard to find the time as much as I want but I'm making it happen.
Have at least one date night with Andrew sans baby. This was a fail 🙁 We are just so tired. We have watched a lot of movies and cooked together at home though.
Start attending Barre classes at least twice a week. Yes! I am loving being back at Barre!
Try to get Liam on more of a schedule. Yes yes yes. He is doing really great. We are currently doing the 12 hours of sleep by 12 weeks plan and we are close!!
Start planning our summer trips (so behind!) Yes again, we are excited for our lake trip in June and Chicago in August.
Figure out a Father's Day gift for Andrew. Yes again really excited for this!
Read two books. I read 1.5 books. Mostly at 3 AM while feeding Liam or on the elliptical at the gym.
Pretty proud of myself this month 🙂
In May I want to…
Find a summer swim class for Liam
Have Liam meet Andrew's grandma
Work on Liam's baby book
Find something creative for my mom for Mother's Day
Have 2 dates with Andrew outside of the house
Keep up with my W's (walks, workouts, Weight Watchers)
Do an updated Weight Watchers post and Barre post
Work on Pinterest growth
Write posts through August
What are your May goals?