Even though summer doesn't officially start until June, it's starting to feel like summer around these parts. Summer plans are being made and Memorial Day is the end of May which is the unofficial start of summer. Summer is one of my favorite times of year. Not so much for the heat, which I truly hate, but just the slower pace and more fun attitude everyone seems to have. Plus we have so many fun summer plans with our little guy. I look forward to seeing his first summer play out! So today I am giving you 25 summer blog post ideas so you have tons of fun things to write about during these summer months!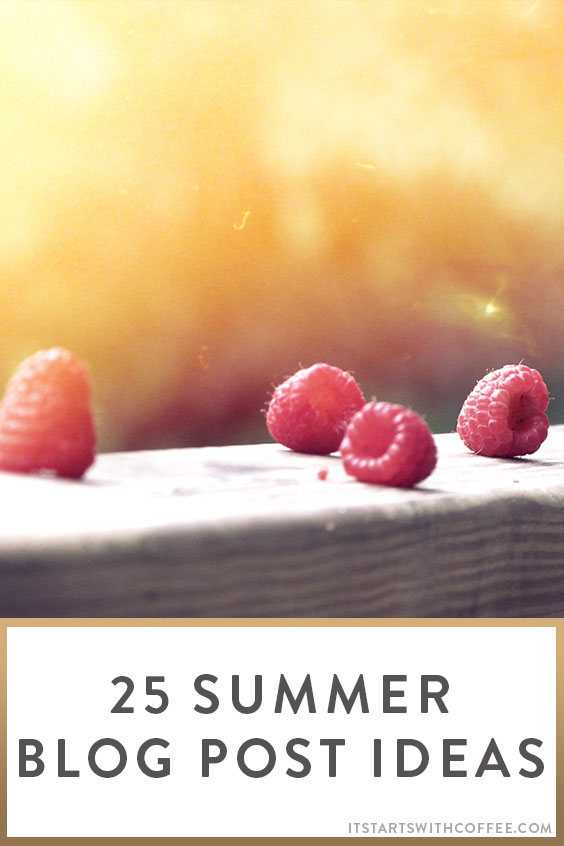 25 Summer Blog Post Ideas
Favorite summer memory
Summer bucket list
Summer travel plans
A summer recipe
A summer drink recipe
Summer reading list
July 4th outfit ideas
Memorial Day plans/recap
Labor Day plans/recap
Favorite summer workouts
Favorite summer beauty products
What's in your pool/beach bag
What's in your handbag- summer
June, July, August goals
Summer must haves
Favorite outdoor activities
A craft you want to do or did do
Summer kids craft ideas
Favorite summer TV shows
Recap of your favorite movies you saw this summer
Healthy eating tips/tricks
A day in the life at your house-summer
Share a summer playlist
Favorite restaurants in your city/town
A full summer recap
There you have 25 summer blog post ideas to get you going! I hope you find them helpful and if you post about any of them, let me know! I would love to read them.
If you enjoyed this post, I would love if you saved/heart it on Bloglovin' and check out my other blog advice posts!
What are your summer plans? I would love to hear an idea you would add to this list as well!