How is my child 15 months already!? He will actually be 16 months on the 13th, although when someone asks I just say 1 hehe. I wanted to share some of our must have baby items at 15 months. Liam is at an age where he wants to constantly be moving and going and doing!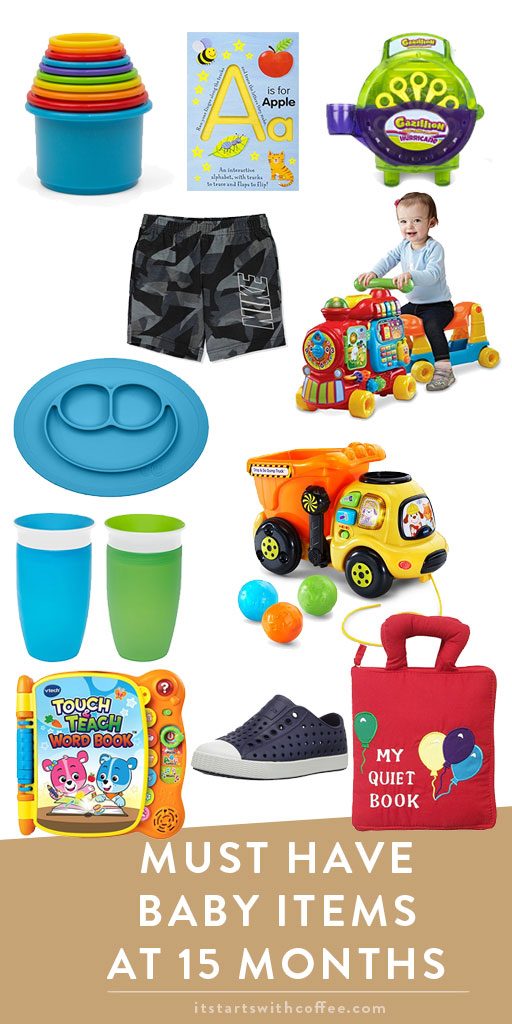 Must Have Baby Items At 15 Months
Toys: Bubbles are just a win no matter what. Inside, outside, he's not picky! Mostly we do bubbles outside! For travel we loved the My Quiet Book, which kept Liam busy for a long time on the plane. We also love VTech learning toys like this train, dump trunk, and book! He also loves anything he can stack like blocks and cups. As far as books he is super into the ABC book, Llama Llama books, and Dear Zoo. He also loves these books about birds and weather.
Eating: We love the EZPZ happy mats and the Munchkin 360 cups. Highly suggest both! We use Thrive Market (affiliate link) to order most of Liam's snack foods too!
Clothes: Our favorite things to dress Liam in for everyday clothes are Nike basketball shorts of Cat and Jack shorts, Cat and Jack or Peek T-shirts, and Natives!
What are some things we should check out?