WOAH! It's baby month! Yep we are 3 weeks and 1 day away from baby girl making her appearance! I am large and in charge and I am ready to be done! But first lets look and see what I accomplished in October and also check out my November 2019 goals.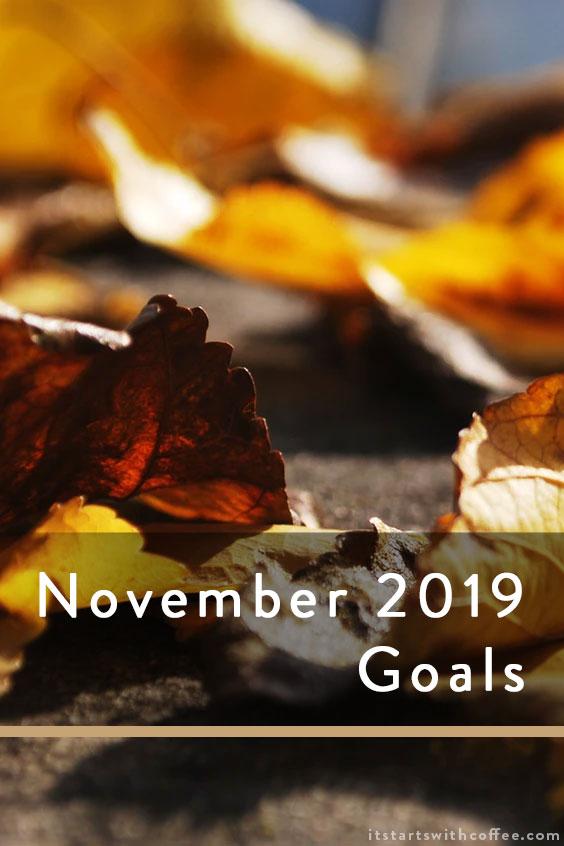 November 2019 Goals
In October I wanted to…
Read 5 books – I read 2. I've been so tired that most reading time means nap time or bedtime.
Finish baby girls nursery – Her nursery is done and I love how it turned out. We really didn't do much different from how Liam's was. Similar setup and same furniture just with girly touches.
Write thank you notes (we have two showers this month) – Yes! We had two lovely sprinkles. One hosted by my mom and a family friend and one hosted by my group of girlfriends. Baby girl is SET!
Do all the fall/Halloween things on our Fall bucket list with Liam – We did a lot! We did the Arboretum, pumpkin patch, trick-or-treating, decorated for fall, carved pumpkins. The only thing we didn't do this year was the State Fair because I am way too pregnant for that.
Have one date with Andrew at least (our anniversary is this month so this shouldn't be hard) – We had two! We did go out for our anniversary and then Andrew had Columbus Day off so we had a day date.
Start packing my hospital bag (WHAT!?) – I started it this week when I had a panic that I would go into labor early and not have things together. I at least have the most important stuff I want in the bag.
Spend some quality 1:1 time with Liam – Yes! He had a few random days off school and we did lots of fun things. Plus he's been super into coloring and watching movies and we also have played outside a ton. We have been doing a lot of special things with him too. We took him on a trolley ride, for frozen yogurt, to the pumpkin patch MANY times, The Arboretum, etc.
Get at least 15 more posts written for the blog – Oh gosh I am done almost through February. Aside from sponsored content!
In November I want to…
Have a baby (can that count?) I kid
Rest and relax
Do some fun 1:1 things with Liam
Read 2 books
Finish packing my hospital bag
Go easy on myself these last 3 weeks
Get the house prepped and organized for baby
Assemble play mat, bouncer, and get the car seat installed
Get 10 more posts written and scheduled
What is one of your November 2019 Goals?