Safety has always been important for us, but once we had Liam it became even more important. Recently, I was invited to attend the Febreze Safety Immersion. We got to learn from experts all about the Febreze ingredients as well as how the products are made and what goes into making sure it's safe for not only adults, and children, but pets as well!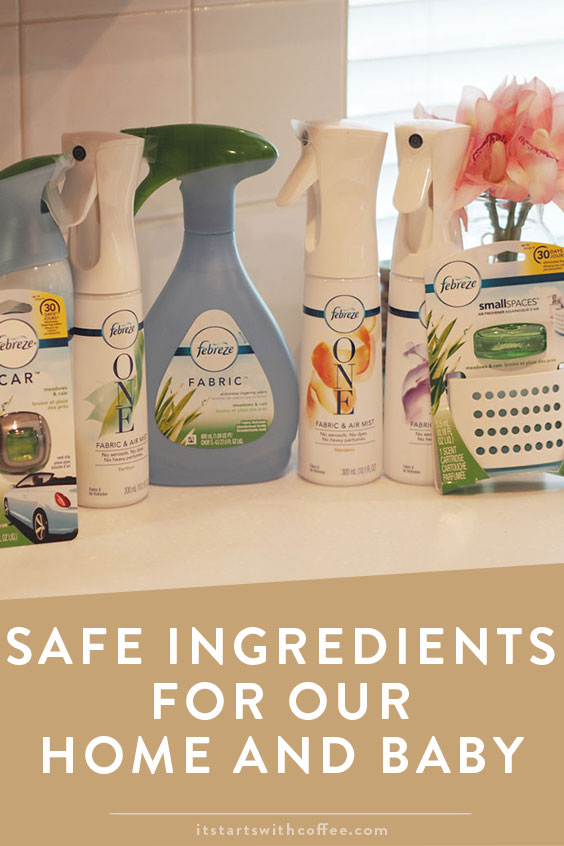 So why are safe ingredients for our home and baby so important? We obviously like to keep our house clean, and with a toddler I feel like we are cleaning nonstop! As part of our cleaning routine we have integrated a few Febreze products to keep the house (mostly baby related things) smelling fresh, clean, and safe all at the same time!
Safe Ingredients For Our Home And Baby
Things we use Febreze for with Liam:
Car seat: Car seats can get to smell kind of gross after a while. They are insanely hard to clean, honestly a huge pain in the butt! So if they smell a little, spraying them with Febreze is super easy and effective at eliminating the odors! Plus, we know the ingredients are safe so I don't worry about Liam putting parts of the strap in his mouth! What I love about Febreze is that they go through so much testing to make sure the ingredients that are used are safe. From selecting ingredients, testing, defining the safe range, avoiding certain risks, and listening to and monitoring consumer comments! Febreze really wants to make sure consumers are happy with the ingredients and understand what goes into making the products safe.
High Chair: The smell of food that's been in and out of baby hands and stuck on high chair fabric can not be ideal. Even after we clean it, it still has a smell. So as part of cleaning the high chair we spray it with Febreze as well.
Nursery/Nursery Furniture: So babies rooms can give off a specific umm scent. We spray Febreze over his furniture, diaper pail, glider, changing table area, and carpet pretty frequently. It's nice because it keeps his room really fresh smelling, but it isn't toxic or dangerous to spray Febreze on his things.
Carpet: Walking on carpet, spilling things, playing, it can start to feel dingy and smell kind of gross. So every few days as part of our cleaning routine we spray our rugs and carpet with Febreze FABRIC or Febreze ONE fabric and air mist. It makes them smell so much fresher! Even vacuuming the carpet can sometimes leave it smelling a bit rough if you know what I mean.
Playroom toys: Really the playroom in general gets sprayed down with Febreze at least ONCE a week. We have a couch in there, Liams PBK chair, and other furniture and toys!
Even though all of these things are cleaned as part of our cleaning routine we also use the Febreze plugins constantly. We have them in almost every room of our house to keep the fresh scent continuous!
I feel really confident using Febreze products. Not only because they make our house and all of our baby stuff smell super clean, but because I know the ingredients are safe for us and most importantly our baby. If you want to make sure you have products with ingredients that are super safe for your baby this is a line of products you can trust!
I mentioned how Febreze makes sure their ingredients are safe, but I want you to know what they do NOT use: phthalates, formaldehyde, or flammable propellants.
I would love to know what you do to keep your house clean and safe too!
Thank you to Febreze for partnering on this post.