HAPPY SEPHORA SALE DAY! This is hands down my favorite sale of the year. The best time to stock up on all the beauty products and really get the most bang for your buck! It's my favorite time to buy holiday gifts and also grab some restocks of my favorite products. I will be sharing a mix of both today as well as some things that I just think are a great deal!
I have done a TON of beauty reviews so a great place to check for recommendations beyond these is under my beauty tab.
Here are the details for when you can shop the sale: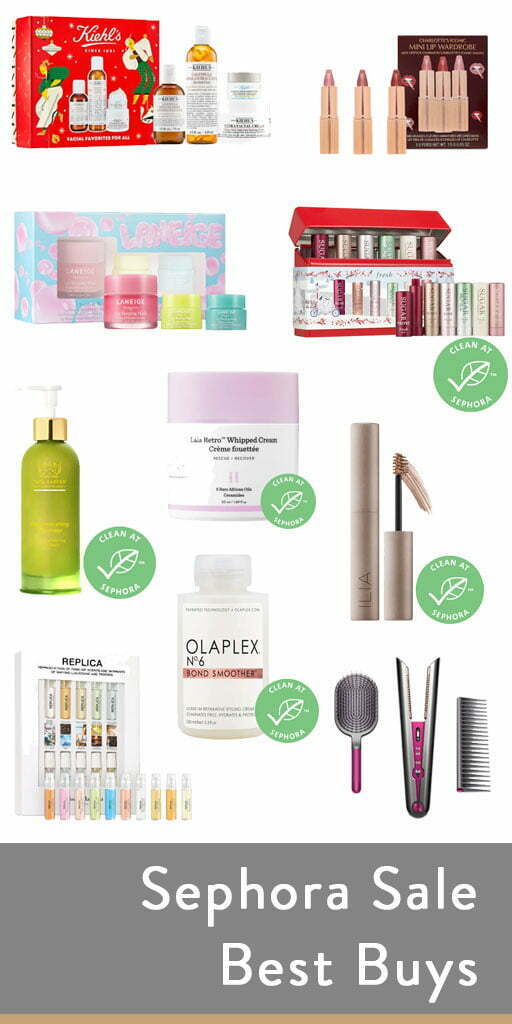 Sephora Sale Best Buys
Holiday sets: It's a great time to buy holiday gifts for friends and family or even for yourself! I love how they do the holiday gifts because you can usually try a few products from a brand at a smaller size and less expensive price. I love Fresh products and especially the sugar lip balm. This set is so great and would make the perfect gift for any lady in your life, or yourself! I love Kiehls products and if you are a skincare junkie this is a great set. I feel like everyone raves about the Laneige products and I have ONLY tried a couple but this set is too good. I love the Charlotte Tilbury lipstick so I will for sure be grabbing this set. My favorite perfume brand is Replica and seriously every scent is amazing. This set is so great because you can try them all!
Skincare: My favorite thing to buy during the sale is skincare. It tends to be a bit more expensive so being able to get 20% off is great. I love the Drunk Elephant whipped moisturizer in the winter. It really helps my skin stay moisturized. I am a HUGE Tata Harper fan. Two products I always grab are the exfoliating cleanser and the resurfacing mask. If you do them together your face feels like you got a facial. I am a HUGE fan of Supergoop products. The eye cream and moisturizer are items I use daily. I also LOVE the glow screen for a little extra tint.
Makeup: My very favorite makeup product is my ILIA Beauty brow gel. It's the ONLY product I always have on. You can read my entire ILIA review here but EVERY product I have tried from them has been amazing. Their true serum concealer is another holy grail of mine. I have a bit of a lip balm addiction and the ones in my cart are the Farmacy honey butter, the Bite agave, and the ILIA balmy days. I am also planning to try a new mascara. I LOVE the ILIA mascara but I am also grabbing the Kosas mascara as well. Review coming soon. I wanted to try a clean lash primer and I have heard awesome things about Lashfoods primer.
Hair: One holy grail hair product for me is the Olaplex 6 bond smoother. I use it every time I shower and I swear it's the reason my hair is so healthy. I have had the Dyson Hairdryer for about 4 years and I think it's pretty much the best investment ever. I have had my eye on the Dyson flat iron and this is the perfect time to get it! Both come in amazing holiday sets too! My go-to shampoo and conditioner are the Moroccan Oil Moisture Repair. The ONLY hair ties I use are the slip silk scrunchies! They are pricey so this is a great time to grab some.
OK, there you have it my VERY comprehensive Sephora Sale post. I really hope I gave you guys some good suggestions for products to try and holiday gifts. I hope you score some great deals. Let me know what you end up grabbing!
Are you buying anything from the Sephora sale? Shop my picks below!