You know I love to read! Summer reading as an adult is way more fun than it was when we were in school. Today I want to share the books I am really excited for this summer aka my summer 2018 reading list.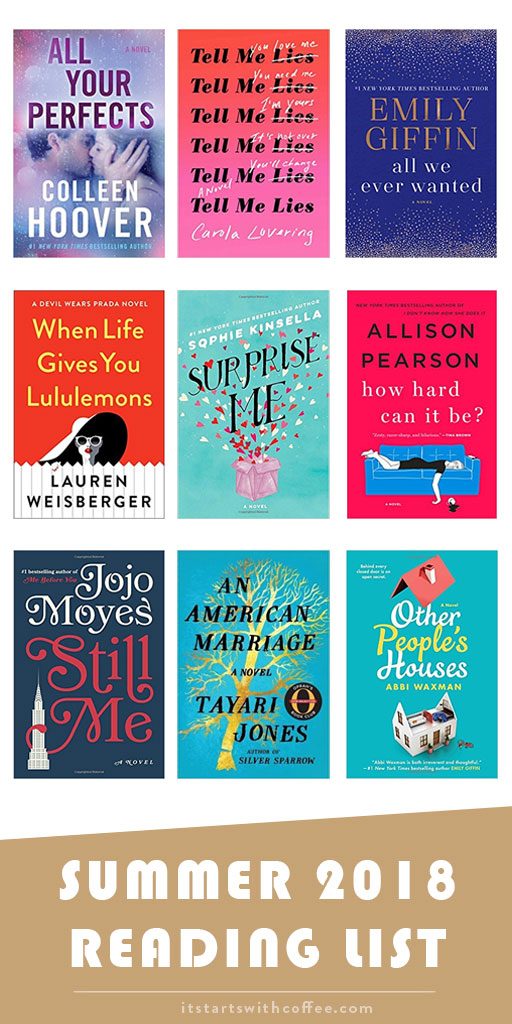 Summer 2018 Reading List
If you know me at all you know I am a huge Colleen Hoover fan. I was lucky to receive and ARC of All Your Perfects (full review coming soon). I can tell you it's amazing. I have a more in depth review coming closer to it's release but I promise you it's her best yet!
Tell Me Lies was a really different book than anything I had read before. It alternates points of view of the two main characters and really delves deep into their relationship.
I love Emily Giffin (we have met!) and when I saw she was releasing a new book I could not wait to get my hands on it. This one is a bit different and I love that. It's less love story and more people story. You will love All We Ever Wanted.
I know in life we aren't supposed to judge a book by it's cover, but this book had me at the title. I mean When Life Gives You Lululemons is a great title. Then I found out it was a sequel(ish) to The Devil Wears Prada. It's more of Emily's story years later. It is SO GOOD! I think I even liked it better.
Y'all I love Sophie Kinsella's books! I was so pumped to realize she released a new one in February! Surprise Me, was super cute! Anyone who is married or in a long-term relationship will LOVE this!
I Don't Know How She Does it is one of my favorite books so I was thrilled to see the author had a new book, How Hard Can It Be coming out. It's a sequel so make sure you read the first one first!
Other Peoples Houses was sent to me as an advanced copy and you guys it was so good. I could not put it down. When a carpool mom witnesses something she shouldn't she decides to not do anything about it but then everything just comes crashing down. So good!
An American Marriage was an Oprah Book Club selection so duh I'm in! It really broke my heart. This seemingly perfect couple is thrown when the husband is arrested for a crime the wife believes he did not commit. She then finds comfort in another man. His best man!
I was SOOOO excited for another book about Louisa and Still Me is such a good chapter in her story! If you loved Me Before You and After You, I think you'll like this. In fact this may be my favorite so far!
What's on your summer 2018 reading list?
If you are interested in any of these books check out below to shop them!