Whenever someone brings up being a morning person vs a night person I am quick to say I am a morning person. Being up late is not my preference ever. So I live for mornings! The earlier I get up and get productive the better I feel. Today I am sharing 9 things to do by noon every day. I promise you will feel better!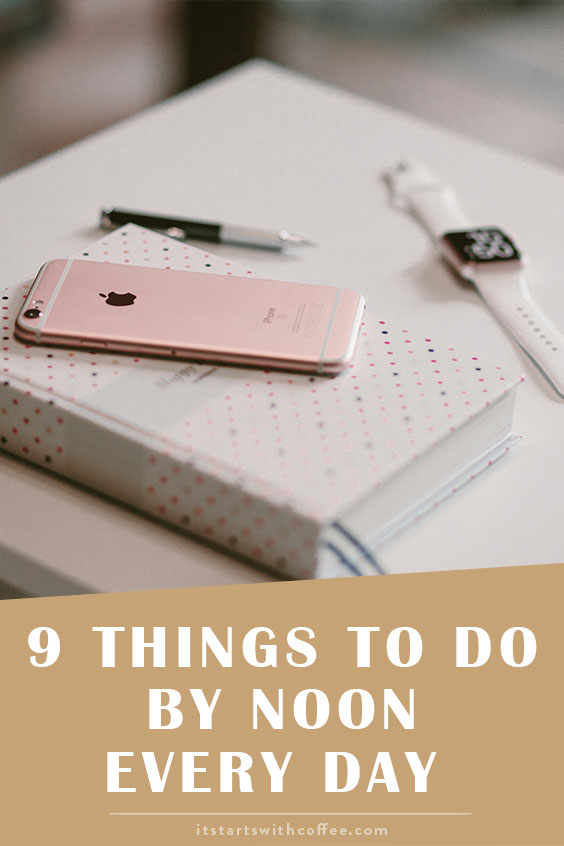 9 Things To Do By Noon Every Day
Don't Snooze: This is one thing I never do! But 5 minute increments of sleep are NOT good for you! If you are a snoozer try setting an alarm in your bathroom or across the room to decrease snoozing.
Take Care Of Your Skin: The first thing I do is brush my teeth and wash my face. Then I do my morning skincare routine. Taking care of your skin is such an important factor to every day. Make sure to top it off with some SPF!
Exercise: Even if it's a 15 minute yoga session. It's a great way to start your day! If you like yoga, this is my favorite Youtube yoga. This is also my favorite yoga mat!
Meditate: I use Headspace which I highly recommend!
Eat a good breakfast: I am shocked by the amount of people who don't eat breakfast. I wasn't much of a breakfast eater till college. Now I need to eat within 30 minutes of waking up or I don't feel well. A healthy breakfast is even better!
Do Your Hardest Task of the day: Do you have something you are dreading? Invoices? Emails? Paying bills? Cleaning out your closet? Laundry? Or just something super hard? Do it first! Then it's done, you are way less stressed because it isn't weighing on you!
Straighten up: Dealing with a mess is NOT a great way to start your day. So in the morning straighten up the kitchen, your bathroom, etc, so that your space is clean to begin the day. Bonus if you do it the night before.
Make A List: I do this the night before as well but make a to-do list for the day! It will keep you on task and you won't forget something important!
Get Dressed: Lastly, take a shower, get dressed! Or if you are a night shower person that is OK too! Just get dressed in something other than PJs. Even if it's workout clothes just getting dressed and ready will make you feel great!
Are you more of a morning or night person? What is one thing you have to get done by noon every day?