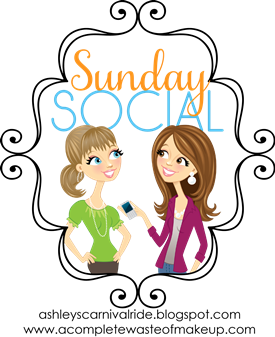 Happy Sunday Social Day everyone! Its chilly here in TX and its a long weekend so wooohoooooo!
This Week's Questions: All about 3's
Top 3 Favorite Kinds of Food: Pizza, Mac and Cheese(not out of the box I mean the fancy kind at restaurants), and Oatmeal…yeah Im weird.
First 3 Things you do in the morning: Check email, twitter, facebook, etc then I make my bed then I brush my teeth.
Last 3 Things you do at night: Brush teeth, make medicine, gulp down water which only means I wake up at 4 AM to pee every single night.
3 TV shows you NEVER miss: How I met your Mother, Teen Mom, Dance Moms
3 Places you want to visit: London, Italy(all of it), Brazil
3 People you can always count on: Besides the obvious family and boyfriend: Michele, Ashley and a Sar, Steph, Sarah combo of group text awesome-ness.
Next Weeks Questions: We're getting deep 
What is your ideal way to relax
Where is your favorite place to be
Who do you consider your biggest roll model
What does your life look like in 3 years?
If you could go back and change one decision what would it be?
What is your biggest accomplishment in life thus far?
Link up with Ashley and I and share! We like it 🙂
Linky: