In case you haven't heard (HA!) The Nordstrom Anniversary Sale has started. Now I know you will be inundated with posts about it but this post is a little different. I wanted to share all the things I already own from the Nordstrom Anniversary sale that I feel are great deals and actually worth the money. So much stuff isn't a good deal or honestly isn't that great. I mean it's all relative to what each individual person thinks so that's just my opinion. I don't want anyone to feel pressured to buy anything. These are things I would 100% buy again and I wanted to share that!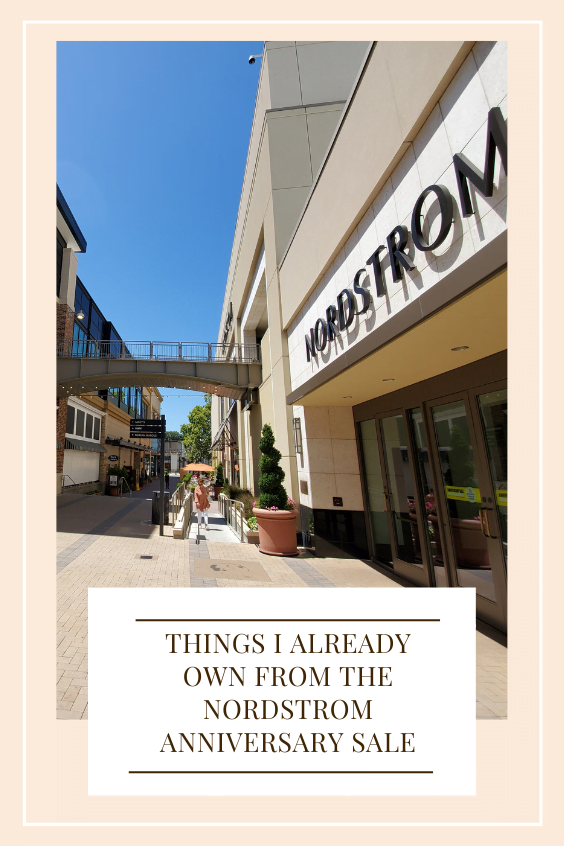 Things I Already Own From The Nordstrom Anniversary Sale
Things I Already Own From The Nordstrom Anniversary Sale Beauty:
Replica perfume: This perfume I wear ALL THE TIME! There are so many good scents and this is a great way to try several.
Supergoop products: I LOVE Supergoop. I have an entire blog post here reviewing the products. The sunscreen and superscreen face moisturizer are two of my favorites.
Necessaire Set: I use Necessaire body lotion and body wash every day so seeing them on sale in a set for $35 is a huge win. I am for sure stocking up! It's the best lotion and body wash!
RMS Beauty Set: This is a great way to try some clean beauty. I love RMS products and this set gives you a few things to try.
Kiehls hand cream: This is the ONLY hand cream I use. You can get a jumbo size of it for an amazing deal or a smaller size which is perfect for travel.
Morroccon Oil Shampoo and Conditioner: One of my favorite shampoo and conditioners is on sale in a set!
Slip silk hair ties: The best hair ties out there. This is an awesome deal with two sizes.
Tata Harper masks: My holy grail face mask plus 3 more with it.

Things I Already Own From The Nordstrom Anniversary Sale Fashion:
Barefoot Dreams sweater: Duh the best. I love mine for travel and around the house.
Zella leggings: I haven't been into Zella until recently but I got one amazing pair of leggings and I was hooked.
Zella sports bras: These are my favorite sports bras. Such a good price and really hold everything in well.
Sweaty Betty tank tops: The best tank tops for barre, yoga, and pilates.
Alo pullover: My go-to in the cooler months! I have 3.
Zella pullover: I love all the Zella pullovers I have!
Madewell Jeans: I think these jeans look the best on my body. I have a butt and hips and these are amazing.
Wit and Wisdom jeans: another great pair of jeans for girls with a butt plus under $45!
On Cloud sneakers: I love these for running, errands, and they are the most comfortable!
Hunter rainboots: I have had mine for probably 10 years! The best rain boot and will last forever.
Adidas swift run sneakers: Another favorite pair of sneakers. These are great for workouts or just to wear on errands.
Vince sweaters: Definitely more of a splurge but you will have them for years.
True and Co bralette: My go-to bra!
Zella wrap jacket: This is great to wear to and from the gym or on errands in the cooler months.
Longchamp tote: I don't have this exact one but I am going to purchase this one. I have an older one and I have used it for 11 years.

Things I Already Own From The Nordstrom Anniversary Sale Home:
Nest Candles: The best smelling candles and perfect to grab and hang on to for gifts.
Boll and Branch sheets: We have 2 sets and these are the ONLY sheets I will use.
Nordstrom blanket: Great price for a super soft and cozy blanket.
Boll and Branch blanket: We have this on our bed and it is so warm and soft.
Barefoot Dreams blanket: We have had this for years and my kids have them too!

What do you own from the Nordstrom sale that you would repurchase?