Hard to believe in a little over a month we will have a little girl in our family. With my pregnancy winding down (thank god) I am here to share my third trimester pregnancy favorites. These are super random, but for those that may want some ideas of things that come in handy in the third trimester, this is for you!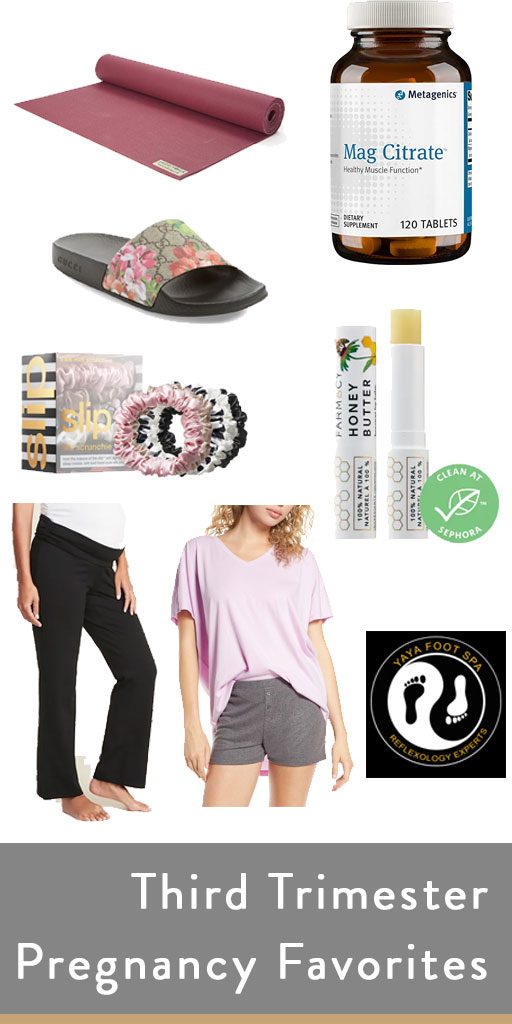 Third Trimester Pregnancy Favorites
So basically my uniform consists of two things: Nike shorts below the belly and a giant t-shirt to work out. Or these foldover lounge pants or foldover lounge shorts (sold out) and these t-shirts for anything else. I also wear my Gucci slides pretty much everywhere. I treated myself to them last year but have been wearing them a ton during this pregnancy.
One thing I have been doing this second half of pregnancy is regular foot massages. I go to Yaya Foot Spa in Dallas and they do reflexology which really helps. My feet and legs have been so incredibly sore.
My lips have been super dry so I got a new lip balm that I am loving from Farmacy Beauty.
I have also been really into my silk scrunchies. Nothing new there but since it's still 10,000 degrees out I have had my hair up a lot.
I have done a lot of prenatal yoga at home so I have been using my Jade yoga mat NONSTOP! It's wonderful if you are in the market for a new yoga mat.
Sleep has been rough. My Dr. told me it was OK to take a Magnesium supplement so I have been taking this one. I've actually blogged about it before. It's great at assisting with sleep. Highly suggest!
I am feeling so ready for this baby girl to come. I mean hopefully not early because I want her to be safe and healthy as long as she needs but we can't wait to meet her!
If you have been pregnant or are pregnant what is one of your third trimester pregnancy favorites?