I hope you all had a good holiday weekend! Today I am going back into my series of 10 products I swear by. I wanted to share the health and fitness items I swear by because I know so many of us are constantly trying to up our health and fitness games.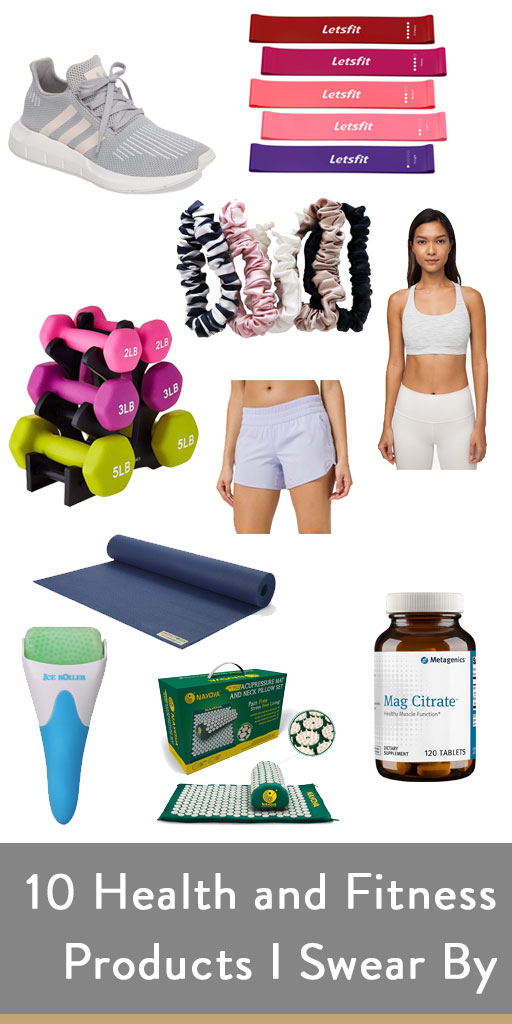 10 Health and Fitness Items I Swear By
I am putting my ice roller on here because while it could technically fall into the category of beauty as well I use it to help relieve migraines too. Seriously the best money I have spent!
My Jade yoga mat is seriously the best yoga mat I have ever used. I use it for barre, yoga, and other workouts too. It's ridiculously durable and soft.
I bought my acupressure mat about 2 years ago and has helped so much with stress and pain relief. I use it a few times a week and it looks and sounds weird but really helps a ton.
I started taking Magnesium Citrate tablets each night a few years ago to naturally help with sleep. I am not really into taking melatonin. These help me sleep and wake up without feeling groggy and have really benefited my overall sleep quality.
I don't have a TON of workout equipment at home and I have mostly been doing barre, and walking/running. For barre I use these resistance bands and these weights. I feel like they are both great things to have on hand for lots of different workouts.
My two favorite sports bras are the Energy Bra from Lululemon and the Athena crop from Outdoor Voices. I find that these are the best for my bust style. I have pretty small boobs and these work great.
My favorite workout shorts are the Tracker Shorts from Lululemon. They are a bit of an investment for shorts but I have a pair I have had for 8 years and I wear them probably 3-4 times a week and they are still in perfect condition.
I have talked a million times about the Adidas Run Swift shoes which I think are the best workout sneakers. I have too many pairs to count and I love them so much!
To keep my hair up during workouts I swear by slip silk hair ties. Again, a little pricey but worth every penny in my opinion.
My VERY favorite water bottle to use is my Yeti rambler and now they have a TON of colors to choose from. I have a white one and Liam even has a kids yeti he loves too.
I would love to know a health and fitness item you swear by!