Sometimes we can all get in a funk. Maybe for no reason or just a bunch of stuff piling up at once. I know for me, something that always helps is a little indulgence. It doesn't have to be food, because if you're like me you're always trying to be healthy! So I am sharing 10 little indulgences for yourself you can do if you need a pick me up!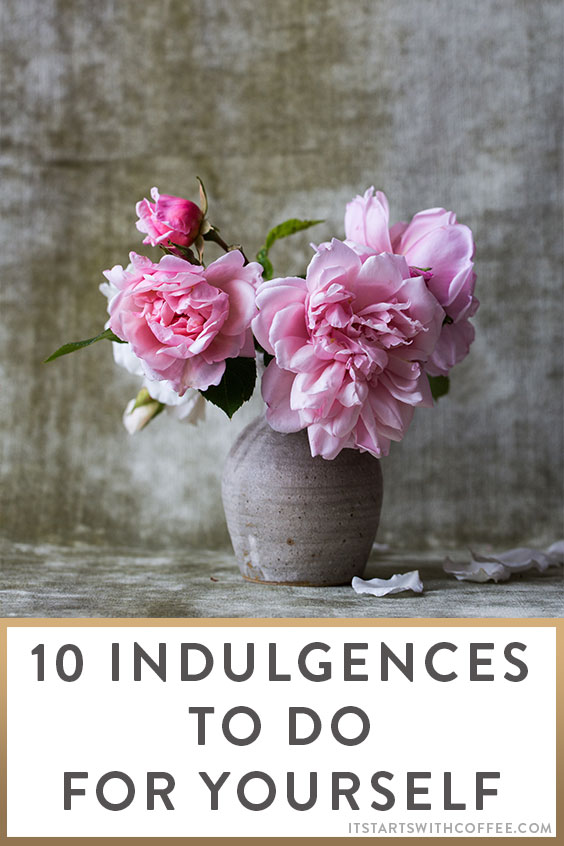 10 Little Indulgences For Yourself
Pamper Yourself. This doesn't have to be expensive. You can do an at home face mask, give yourself a pedicure, paint your nails, take a bubble bath, etc. If you want to pamper yourself in a more expensive way you can treat yourself to a mani/pedi (my personal fav) go get a blow out, get a massage, etc.
Naps. I think naps are indulgent at least for me because as much as I love them, I always think of other things I could be doing. Laundry, cleaning, working out, work, etc. But man when I do indulge in a nap…it's so good.
Go Shopping. This is a treat at least right now. With a little baby at home it's rare these days that I get any time to do things by myself. I don't mind taking him to the mall with me or to a store but it's all on a schedule and about timing. Plus it's a bit hard to maneuver a stroller in a dressing room. Praise the lord for HUGE Nordstrom dressing rooms. You guys know what's up!
Reading. Again very rare that I have a TON of time to read right now. I do read quite a bit before bed but I also like to spend time with my husband. I sneak in some reading time while doing cardio at the gym since I can read on my phone and sometimes while my little buddy is napping. But usually naps are reserved for work or eating or showering. So for me reading is a huge indulgence. If you need an indulgence picking up a new book or checking out some from the library are awesome.
Working out. You are probably wondering why I have working out as an indulgence. I personally LOVE to work out and take fitness classes, so having an hour to do that is huge for me. Thankfully we are past the two month marker and I can bring my little guy to the gym with me. Their nursery is amazing and I feel completely secure leaving him there while I work out for an hour. I also love that my gym has amazing barre and spin classes as well as a variety of TRX classes. If I am feeling REALLY indulgent I work out with my trainer. If you are like me and finding an hour to work out is a treat this is an indulgence for you.
A glass of wine. Speaks for itself, am I right?
A Starbucks treat. Again speaks for itself. It doesn't cost a ton and it's nice to treat yourself to a latte, frap, or peach green tea lemonade. Whatever you prefer.
Seeing a movie alone. This is probably my favorite thing on this list. Pre baby one of my favorite past times was going to a 10 or 11 AM movie on a Friday. I would work out first, grab a Starbucks latte and go see a movie. Usually something that Andrew would have no desire to see. It's so nice to sit alone and see a movie.
Going for a walk. Kind of like working out I love going for walks. Right now the weather is amazing and we walk about an hour or so a day. I listen to a podcast, baby boy usually naps or marvels at the outside world and we have a grand ole time. Pre baby I would usually walk a little longer and on the trails with a good podcast.
A Netflix binge. Who doesn't love a good Netflix binge? Binge on that show that your significant other would NEVER want to watch. My favorites are here.
These are some of my favorite little indulgences. They are great to treat yourself to from time to time.
I would love to know what little indulgences to do for yourself you would suggest?