This content is sponsored by Nature's Bounty. All opinions are my own. 
Having a 5 week old baby is hard. There, I said it. I love that little boy with all of my heart, but I am tired! I do try to do a few things every day to feel good about myself and perk myself up so I wanted to share 10 things I do to feel good about myself with you guys. These can be done by anyone at any time. If you need a boost or a pick me up these are for you!
10 Things I Do To Feel Good About Myself
I take a shower every single day. I can't tell you how many people told me I would go days without showering when I had a baby. I am here to tell all you first time moms or moms to be out there that, it is simply not true. I have showered every day and you can too! haha!
I keep up with skincare. Every morning and night I have a skincare routine (on the blog soon!) that I am adamant about doing. I make time for this every morning and evening.
I take vitamins. I still take my prenatal vitamins every day and I have added some Nature's Bounty® Hair, Skin & Nails Gummies into the mix as well. Having a baby does a number on your body. Your hormones are out of whack and strange things happen to your hair, skin, and nails. Nature's Bounty supports lustrous hair and hair health, supports vibrant skin and skin health, helps support nail health and healthy nails*. With a mix of vital nutrients including Biotin, Vitamin C and Vitamin E, Nature's Bounty® Hair, Skin & Nails Gummies and Softgels work from within to support lustrous hair, vibrant skin and healthy nails*. Nature's Bounty® Hair, Skin & Nails Gummies are full of vitamins to help you feel healthy, feel beautiful and feel well*. Perfect for me right now. I noticed my hair not acting as its usual self and the delicious Nature's Bounty Hair, Skin & Nails strawberry gummies contain 2,500 mcg of Biotin per serving and Vitamin C & E*. It's really been helping me a lot. Visit the beauty aisle of your nearest Walgreens store to purchase Nature's Bounty Optimal Solutions Hair, Skin & Nails Gummies and Softgels.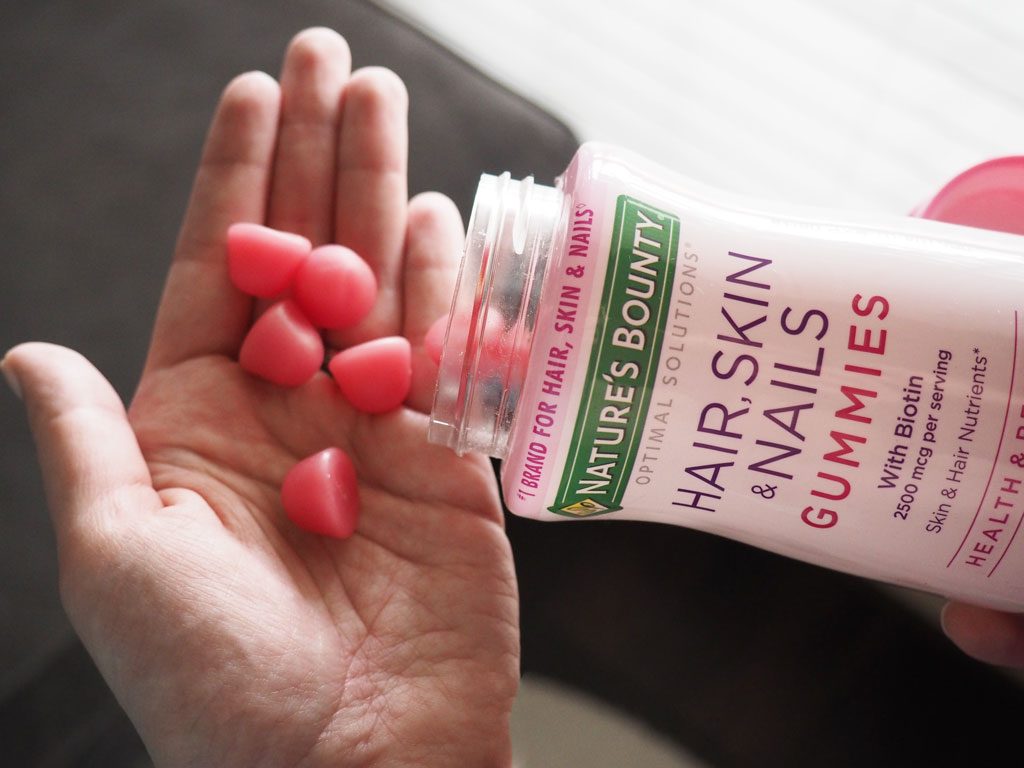 I take time to sweat everyday. I take the baby on walks every single day weather permitting, and if it's not good weather I find a way to get my workout in. Even if it's walking 10K steps around the house daily or doing some yoga while he naps. Getting a workout in is very important to me and when I am cleared for full workouts next week you bet I'll be doing that daily!
I nourish my body. I make a green smoothie every single day and try to snack mostly on fruits and veggies. I have cut out most carbs, sugars, and all processed foods. Nourishing my body is important not just to me but to ensure I am in the best health for my son.
I read. I try to read every single day. Usually a book but sometimes it's just a few articles that make me think and expand my knowledge.
I treat myself. Sometimes it's a mani/pedi without the baby attached to my side or maybe it's just a trip to Starbucks to get a latte.
I talk to my mom. My mom is my biggest cheerleader and she is always there for me to vent about mom stuff, life stuff, etc. She always makes me feel better about myself.
I keep up with my friends. Having a new baby can mean responding to texts 3 days later, or forgetting birthdays, but I try really hard to keep up with my friends to my best ability. It's important to work on friendships all the time.
I work. My blog is very important to me and I am so blessed to be able to stay home full time while also earning a good income. Taking time out of my day while he naps or when Andrew gets home, allows me to work and write, which makes me feel good. Knowing I am contributing to our household makes me feel good.
I have found that taking time to do things I do to make me feel good about myself make me a better wife, mom, daughter, and friend.
Are you wanting to feel good about yourself? I encourage you to take the Nature's Bounty Hair, Skin & Nails Challenge! Start the challenge today to help with lustrous hair, healthy nails and vibrant skin, and your future self will thank you! Nature's Bounty is so confident in their product that if for any reason you don't like it after 30 days, they will give you your money back. The Nature's Bounty Hair, Skin & Nails Challenge is a great way to try Hair, Skin, & Nails Gummies or Softgels for one month, risk-free. All you have to do is sign up, incorporate Nature's Bounty Hair, Skin & Nails into your daily beauty routine, and look and feel more beautiful! Trust me you will love them!
These are just a few of the things I do to feel good about myself. I would love to know what you are doing to feel good about yourself!
*These statements have not been evaluated by the Food and Drug Administration. These products are not intended to diagnose, treat, cure or prevent any disease.