When I wanted to share about our trip to Disney I knew I wanted to categorize the posts a certain way. This post is all about things to be sure to bring to Disney World. Each item was something we were SO GLAD we had and would highly recommend bringing if you go!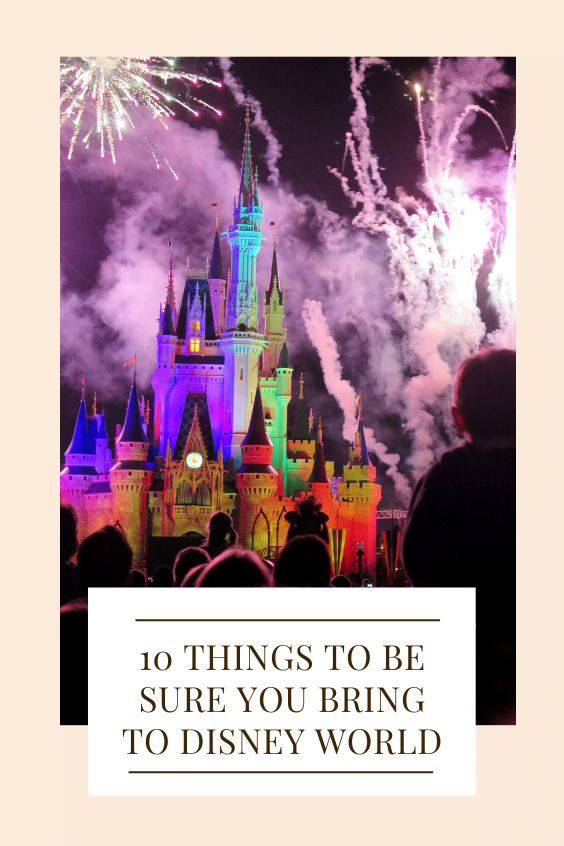 10 Things To Be Sure To Bring To Disney World
Cooling Towels: So I kind of thought these were a gimmick, but honestly when it's 100 plus degrees and humid and you're sweating like crazy in the Florida sun- they are amazing.
Stroller fans: We rented a double stroller for the kids there (we used Kingdom Strollers). So we brought stroller fans which were a lifesaver. Charlotte ended up napping in the stroller some so it was great to have that cool air blow on her.
Water bottles: We brought our own water bottles and ordered TONS of bottled water from Walmart Plus on the trip. By the way, if you don't have Walmart Plus you need it ASAP! Truly one of the best purchases this year for our family. Oh, and you can get a free 30-day trial. OK back to the bottles. We had Contigo kids bottles for the kids, I had this Simple Modern bottle for me. They were all amazing and kept the water super cold!
Raincoats/Ponchos: It rains at Disney EVERY SINGLE DAY! We lucked out and only got rained on at the parks one day and it was the end of our last day there. We had little one use ponchos for Andrew and me and brought the kids rain jackets.
Reusable bags: I have A TON of Lululemon bags and they came in SO CLUTCH for transferring stuff. Even though we had a double stroller we had to empty it anytime we went to a park (security) got on a bus, or tram( folding the stroller). So we had a few Lululemon bags to put everything in for it to be easy to remove everything.
Laundry bag:  Most Disney hotels have laundry and you will want to do laundry while you are there. For this bringing a mesh laundry bag is KEY!
Disney shirts/clothes: Not a requirement but MOST people at Disney have shirts/clothes that are Disney-related. I ordered all of ours on Etsy a few months back. If you search Disney shirts there are literally hundreds of options.
Treats/surprises for the kids: I mentioned in this post that we brought a few Disney-related treats for the kids so we could avoid as much of an upcharge as possible. We still bought them stuff there but this way they had stuff ahead of time too.
Portable phone charger: You use your phone a TON in Disney with the Disney Genie and maps etc so your phone battery will drain quickly. I carried around this portable charger and it was great.
Liquid IV: If you go in the summer especially it is HOT. Andrew swears by Liquid IV and said it was the most necessary thing he had with him. If you use the code, NEELYKINS you can also get 20% off.
I hope you found these helpful and if you ever go to Disney be sure to bring these things! Trust me!
What would you add to this list?