Well, I had no idea my time on my 2nd 101 in 1001 list had run out. So clearly I didn't do THAT great at finishing everything. I think I did a LITTLE more than half. So time for a new one. Let's do this 101 in 1001 round 3!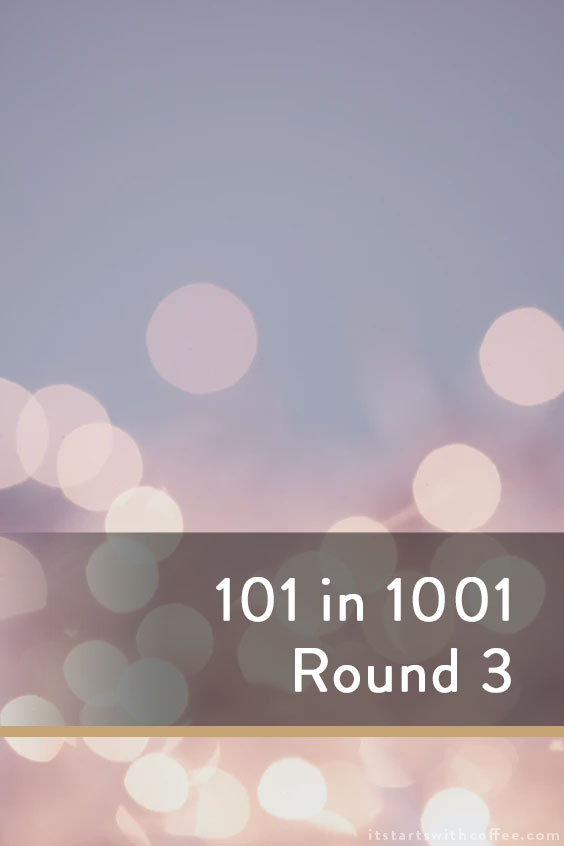 101 in 1001 Round 3
Start Date: July 15th, 2020
End Date: April 12th, 2023
Personal:
Read 100 books
Watch 25 new movies (Inside Man, The Kissing Booth 2, Holidate, The Kissing Booth 3, Tick Tick Boom, The Hating Game, Being the Ricardos, Lightyear, Look both ways, )
Watch 15 Documentaries
Finish 5 new TV shows with Andrew (Married At First Sight literally all the seasons, Summer House, Southern Charm, Below Deck, Below Deck Med)
Take on a larger role at Liam's school (Social Chair 2020-2021, Board of Trustees 2021-2024)
Volunteer for a board position in the area ECPTA– Not the ECPTA but I am on the board of Liams school PTA so I will count that!
Take 100 barre classes
Take 25 Yoga classes
Cook 5 new things (Blueberry Muffins, Tortilla Soup
Donate household items/clothes twice a year (2020, 2021, 2022
Organize all rooms in the house once a year
Get a shed for our back yard for all back yard toys
Paint our bathrooms (1/2 done!)
Go to 3 concerts (Bowling For Soup, Lumineers,
Visit 4 museums
Pay it forward 40 times
Keep up with both kids baby books (2020, 2021, 2022)
Run 2 miles without stopping
Do 10K steps every day for a month (August 2020)
Accomplish more things on this list than the last
Figure out a better system for our office/storage room
Professional:
Hit 100K on Instagram
Hit 25K on Twitter
Hit 25K on Facebook
Hit 50K on Pinterest
Work with 3 new brands
Grow income each year
Update my media kit each year (2020, 2021, 2022
Get more personal on social media
Redesign my blog/branding
Start a new blog series (2021 monthly wellness series)
Start a podcast
Develop a better blog newsletter to go out each week
Share more on Instagram stories each day
Mentor someone wanting to start a blog
Give myself dedicated work time each day without my kids around (ha)-  much easier once Charlotte started school
Family/Friends/Marriage:
Go on a fun trip with my mom/even a day trip
Send snail mail or a fun surprise to 10 friends (Jamie, Camille, Mariana, Lauren, Amanda, Christine
Host a cookie exchange/white elephant each holiday season – did for 2022
Host our neighbors for a BBQ
Sign Charlotte up for a music/Little Gym class (Little Gym Fall 2020)
Sign Liam up for a sport (COVID-19 ruined his first soccer season) – He did Soccer in 2021
Have photos taken of the kids every year (2020, 2021, 2022)
Go on a girls trip (February 2023)
Have a spa day with friends
Celebrate a birthday big
Do 5 new things with Andrew for dates
Go to Eddie V's every year on our anniversary
Go on a family bike ride
Celebrate Charlotte's first birthday
Throw my mom a big birthday party (helped with her party for her 70th)
Dress up in a family theme costume for Halloween
Get Liam ready for Kindergarten (Fall of 2022)
Get Charlotte ready for Pre-school (Fall of 2021)
Take Charlotte to more play dates
See a friend once a week (socially distanced while we must)
Learn how to use chopsticks
See my grandparents twice a month– yes until they passed away
See each of my parents at least once a week
Have at least one date night a month with Andrew
Teach Liam to ride a bike
Travel:
Take a family trip to Seaside (September 2021)
Take a family trip to Austin
Take a family trip to Disney (booked for June 2022)
Take a cruise with Andrew
Spend a week in Colorado during the summer
Take a trip with Andrew to Canada
Take at least one trip alone each year with Andrew (2021, 2022, 2023)
Take a trip with another couple (2021 30A)
Go to a wellness resort
Go to Fredericksburg with Andrew
Dallas:
Take the kids to the Aquarium
Take the kids to the zoo
Take the kids to Klyde Warren Park
Take Liam to a sporting event
Go for family walks around the lake once a month
Visit 10 new restaurants (Parigi, Flatbread Co, RH Rooftop, Monarch, Sixty Vines, Eataly, Paridso, National Anthem, Montlake Cut, Ill Bracco, Las Palmas, Elephant East, Sadelle's, DL Macks)
Take the kids to Blase Family Farm (October 2021)
Go to the Arboretum at Halloween and Christmas each year (2020, 2021, 2022)
Go to an outdoor concert at the Arboretum with Andrew
Walk the Katy Trail with the kids
Go to the drive-in
Use our Perot Museum membership once a month (once it opens back up)
Take Liam and Charlotte to the Crayola experience
Do a staycation at a fun hotel with Andrew (did this for our birthdays in 2021)
Eat at a rooftop restaurant (RH Rooftop)
Random:
Keep up with 1 second a day each year (2020, 2021, 2022)
Have a no-spend month (on unnecessary items)
Leave a 100% tip 3 times
Put important numbers and info into a Google Doc
Take one day for myself every other month
Change out the photos in our house 2 times a year (2020, 2021, 2022)
Invest in a piece of art
Read every day for a month
Volunteer for a cause I love
Drink 100oz of a water every day for a month
Bake a pie
Ride a segway
Send out holiday cards each year (2020, 2021, 2022)
Get a facial 3 times a year
Go to the infrared sauna once a month
So here we go…
Have you ever made a 101 in 1001 list?