I wrote in a recent Friday newsletter (if you aren't subscribed please do) about seasonal depression and how the winter months are super hard for me. It can be really easy to feel unlike yourself as winter continues on or really any time. If you are looking for ways to get out of a funk, this post will be very helpful!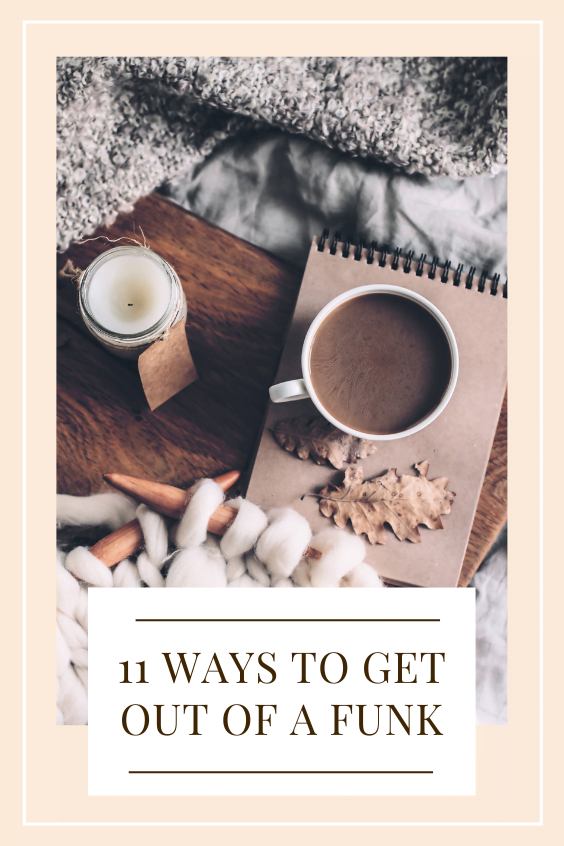 11 Ways To Get Out Of A Funk
Go outside if you can: I have talked about this before but truly nothing puts me in a better mood than being outside. The fresh air and sunshine will truly get anyone out of a funk and put you in a good mood.
Play a game with your kids/friends/significant other: I love games and my kids are starting to get that way too. Trust me playing a game win or lose usually puts a smile on someone's face.
Call a trusted friend/parent and chat: I have a lifelong friend who lives across the country and whenever we chat I am in such a good mood. Even if you have a good friend in the same city, we can get so bogged down in texting pick up the phone and call them!!
Put on a favorite TV show or movie that makes you smile: For me, this is How I Met Your Mother. It always makes me smile.
Do a workout: Endorphins make you happy! Just like Elle Woods said.
Make a smoothie: Anything healthy will boost your mood. Make a big smoothie full of yummy fruits and veggies and I promise you will feel better.
Put on your favorite music and dance: Try to not be happy listening to fun good music and dancing around. If you have kids have them join in with you!
Write out everything on your mind: This is really helpful. Braindumps can really help you figure out what's putting you in the funk, to begin with.
Clean your space: I feel like a messy space messes with your entire mental state. At least for me. I am much happier, calmer, and more productive when I have a clean space.
Make plans with friends: I find that when I don't have things to look forward to it can put me in a mood. I like having plans on the calendar. So if you are in a funk, make some plans!
Make a gratitude list: This is the biggest one. It can be really hard to realize what you have good in your life if you don't take time to think about it. Making a list of all the wonderful, happy things can give you a lot of perspective.