I love a good productive weekend. Something about going to bed Sunday night knowing I have gotten a ton accomplished makes me feel so good. I really make the most of every weekend and try to get a lot done. This always makes my week easier and probably why I really don't ever feel the Sunday Scaries. These are 19 productive things to do every weekend that will probably help you too!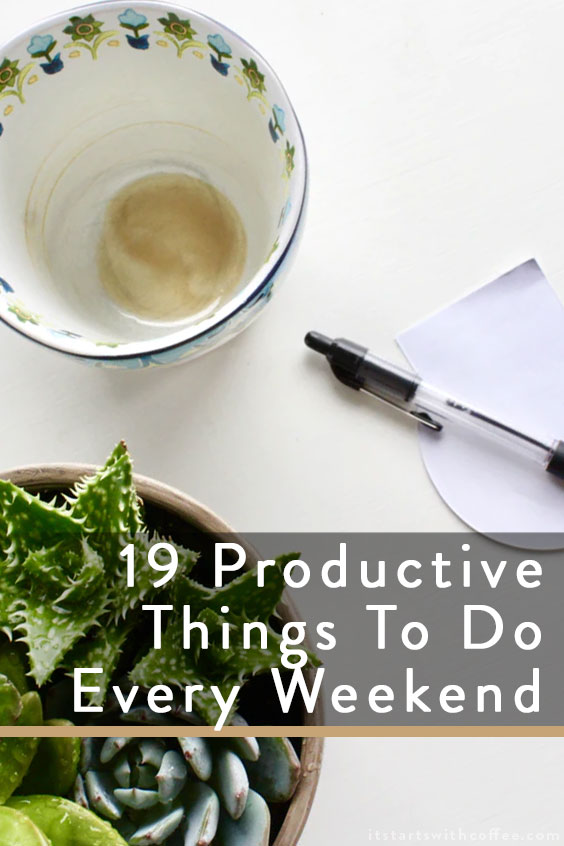 19 Productive Things To Do Every Weekend
Change sheets: I love clean sheets and would argue there are very few things that feel better than getting into your bed with clean sheets.
Grocery shop: We always grocery shop on weekends and stock up for the week. Nothing is worse than having to rush to grocery shop on a Monday.
Meal plan/prep: We also meal plan and prep foods on weekends. I usually make egg breakfast muffins for Liam, chicken, hard-boiled eggs, cut up veggies and fruits, etc.
Do laundry: Starting the week off with clean laundry is key!
Clean: We also make sure to clean up around the house.
Declutter: Weekends are a great time to get decluttering done. Donate items, put items in the attic you don't need right now, etc.
Go through your purse: I love to start my week out by cleaning out my purse. Throwing receipts away, trash, etc.
Make a to-do list: For the next week! I have a large one for the week and small one for each day I add to as the week progresses.
Run any errands: Ship packages, make returns, get gas, etc. I love getting all of this done on the weekends so I can enjoy my week more.
Do a workout: Or two! Something about weekend workouts make me feel super productive. They are the bonus workout!
See a family member: This is a great time to see grandparents, or parents you don't get to see as much.
Go for a family walk: We love doing this when the weather is nice. It also crosses working out off the list. Trust me pushing a stroller up a hill is a workout.
Attack one area of your house for a deep clean: Maybe deep clean your fridge, or a drawer, or clean out your closet. Take one area of space in the house and make it cleaner and more organized.
Mark things off your to-do list: Going back to running errands – this is a good time to mark stuff off a bigger to-do list if you have them. We have a to-do list of random stuff around the house we like to get done and take the weekends to do one or two of those things.
Do some of the laundry you don't usually do: This is a great time to wash blankets from the couch, pillows, towels, etc. Anything you don't wash as much.
Disconnect: Take one of the days or an afternoon and unplug and disconnect. You'll feel so much more refreshed.
Work on a hobby: Do you knit, sew, craft, bake? Take the weekend and work on one of your hobbies.
Read: I love using an hour or two on the weekends to read. Such a nice way to unwind.
Recharge: Take a nap, do a face mask. Do something that helps you recharge! You will feel amazing for the next week!
I hope this inspired you to have a productive weekend next weekend and perhaps implement some of these things into your schedule.
What would you add to this list?