Well, my 36th birthday is about to be here on April 3rd. Considering when I started this blog I was 25, something about turning 36 just seems crazy to me. I will say the more into my 30s I get the more confident and comfortable in my own skin I become. Something I was not at all in my 20s. While I pretty much buy what I want I did make a 36th birthday wish list which is more a "what I plan to treat myself to" guide.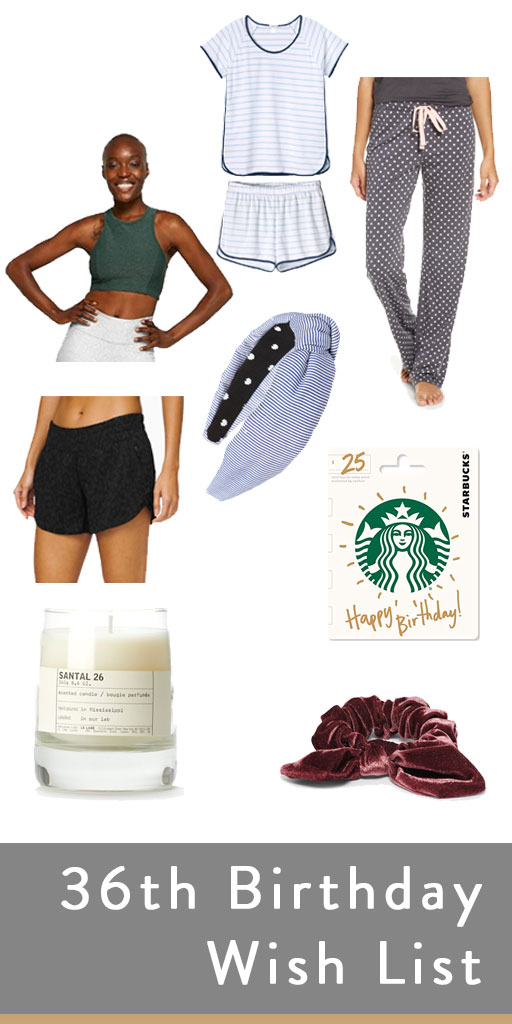 36th Birthday Wish List
My mom did ask me what I wanted and the ONLY thing I could think of was this Le Labo candle. I love the smell so much and I don't think I could justify buying this candle for myself.
I haven't bought a ton of clothes since having Charlotte. Mostly because I want to get back closer to my pre-pregnancy size. I have about 30 lbs to go from the 78 I gained. Oof. But one of my go-to items in the spring and summer are Lululemon tracker shorts. I wouldn't mind a new pair!
I love my silk scrunchies but I also really like the Lululemon velvet scrunchies! I only have one and would love another.
I am HERE for headbands! I was on the headband bandwagon last time they were big and I am on it again. I love this cute one for spring and summer.
When do I not want a Starbucks gift card?
New pajamas are something I think always make a great gift for birthdays, Mothers Day, etc. I love these from PJ Salvage , I also love these from Lake Pajamas aka the softest pajamas you will ever own!
I love the sports bras from Outdoor Voices so I will probably treat myself to a new one. Loving the dark green!
Honestly, this year's birthday is probably going to look a bit different. But I am looking forward to celebrating at home with my 3 favorite people. I imagine Andrew will cook dinner and we will probably watch a movie. I'm hoping to get in a good family walk too. The best gift honestly, would just be things going back to normal.
What would you ask for, for your birthday?