I have done lots of posts about items I think it's good to register for, but now that we are a few weeks away from meeting our second baby I wanted to share more random things to register for. I was very graciously thrown two baby sprinkles with this pregnancy, and when Andrew and I went to register there just wasn't a TON we NEEDED. We had a lot from Liam and I worked with some great brands on partnerships. So a lot of what we registered for were more practical random things. I know a lot of second or even third or fourth-time moms may find this post helpful. But even first-time moms these are GREAT things to add to a registry!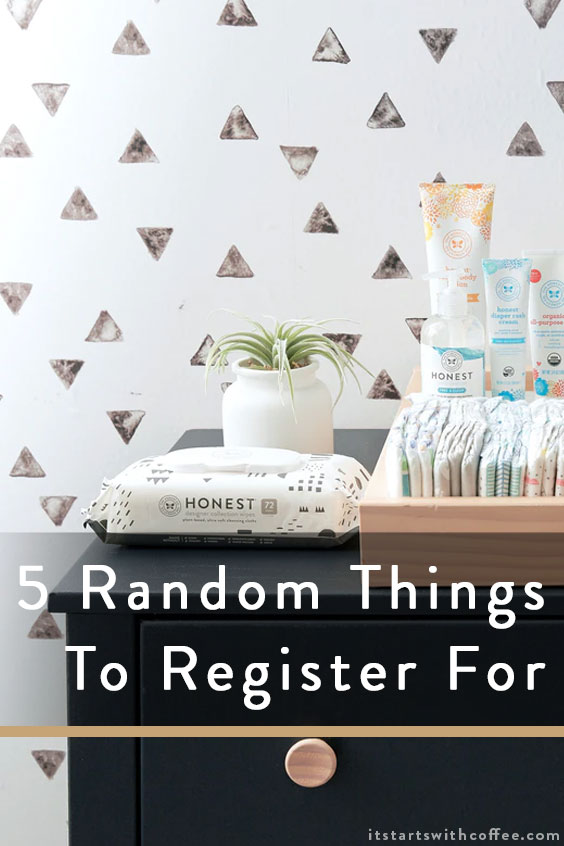 5 Random Things To Register For
Batteries: This was Andrew's idea. So many baby items require batteries and we always find ourselves running out of them. So we went ahead and added several battery sizes to our registry and it was something I know we will be happy we have.
Gift Cards: This was actually an idea I got from a friend several years ago. Adding gift cards to grocery stores, restaurants, Amazon, Target, Walmart etc to your registry is great because things ALWAYS come up that you find yourself needing later. Plus, you can use those gift cards for diapers, wipes, formula, etc down the road.
Formula: For anyone like me who struggled to breastfeed, having formula to supplement is always a good idea. No matter what you do, fed is best. I decided to add a few containers of formula to our registry and I was pretty excited to receive some because formula can get VERY expensive!
Daily Essentials: At my baby shower with Liam, one of my friends gave me a bag full of essentials: a brush, comb, medicine, wipes, etc. I thought this was SO GENIUS! Stuff we ended up being so glad we had at 3 AM when Liam ran his first fever. So this time I went ahead and added medicines, diapers, wipes, creams, soaps, a brush, and all those other daily essentials to our registry. It really just didn't even cross my mind the first time! So glad we will have so many essentials this time. It's also now my go-to baby gift!
Organization: I think moms, especially moms of more than one, can never have too much organization! One thing I really wanted this time was a Totesavvy organizer. This is in no way sponsored. Totesavvy did send me two organizers but they did not ask that I blog about them. I just am that excited. I have a lot of cute totes I use daily and I love the idea of being able to switch them out easily. I have this size and this size both in gray. I think these would be great to add to a registry because they can EASILY turn any bag into a diaper bag!
Did you add anything random to your registry? If so tell me below! Let's give everyone more ideas!