I feel like sometimes one of the most neglected parts of blogs are the "About" page. We set it up but then leave it alone. We don't tweak it and come back to it. We don't utilize SEO for it. You guys I am here to tell you that my about page comes up in search for my blog ALL THE TIME! I want to tell you about 5 things you need in your about page so you can make sure you are utilizing every aspect of it!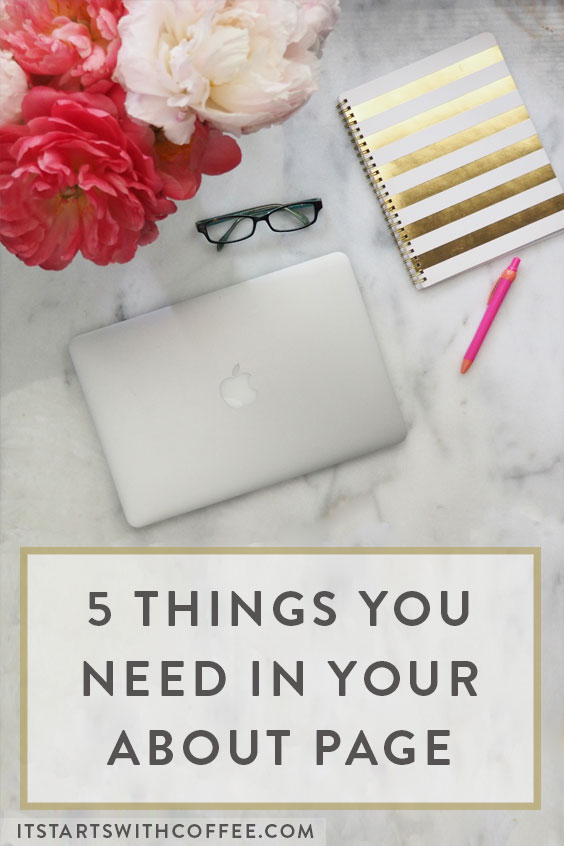 5 Things You Need In Your About Page
Your URL: You probably don't think too much about your about page URL do you? It probably looks something like yourblog.com/about or yourblog.com/about-me. Am I right? If I am right, then that's not the best way to go about it. In fact you should change it ASAP! My suggestion would be your city and niche you most commonly discuss. For instance yourblog.com/miami-fitness-blogger or yourblog.com/seattle-mom-blogger. Since I made this change to my about page 5 plus years ago, I am constantly at the top of search for Dallas Lifestyle Blogger and Dallas Beauty Blogger. Do you know how many times brands have told me that's how they found my blog by searching for a Dallas lifestyle or beauty blogger? No one is searching for "about me". Read more about that here.
Your Email: Do you want people to find you? Do you think they should have to constantly be looking for your email? Yes you have a contact page and that's awesome, but why does it hurt to have your email on your about page as well? My suggestion is to have your email several places throughout your blog. In my experience no one is going to search for it. Don't make them have to.
[ctt title="Is your about page as good as it should be?" tweet="What mistakes are you making with your about page? @Neelykins is helping you fix them! https://ctt.ec/u7TQa+" coverup="u7TQa"]
Your Current Life: Did you write your about page when you first started blogging and since then 3 years have passed and you haven't touched it? Mistake. You should be updating it several times a year. I like to say once a quarter at least. I'm not talking about a complete rewrite but did you make a big move? Or career change? Did you have a baby? Get married? Make sure those things are updated at least briefly. For instance "We are welcoming a baby girl this summer!" Just one sentence can open up a ton of possibilities. You don't need your entire life story in your about page but enough so that readers and brands can get a good idea of who you are all while staying current in your life.
A Photo that represents you: It drives me crazy when I go to a blog and they have either 10 photos or a photo from 5 years ago. It doesn't have to be professional but it should be current within the last 2-3 years. Again this is just my opinion and my experience.
SEO: Your page should have GREAT SEO! This is where that city/niche URL tip comes around. I won't lay out exactly how to do SEO right here (that needs it's own post…or 12). But just make sure you are doing SEO for your about page just as you would for any blog post. It's just as if not more important.
Knowing which things you need in your about page can be tough. I hope learning about these 5 things you need in your about page was helpful!
If you enjoyed this post, I would love if you saved/heart it on Bloglovin' and check out my other blog advice posts!