Thank you to Lexington Law for sponsoring this post. All opinions are my own. 
If you read my recent post about credit you know that credit is about as important to your life as anything else. It really can determine so many things for you, from what kind of loans you can get to what kind of car you drive and even YOUR JOB!  There are so many times in your life that you need good credit and so many times that not having it can really affect you. Today I want to share 5 times in your life you need good credit and how to make sure you have it!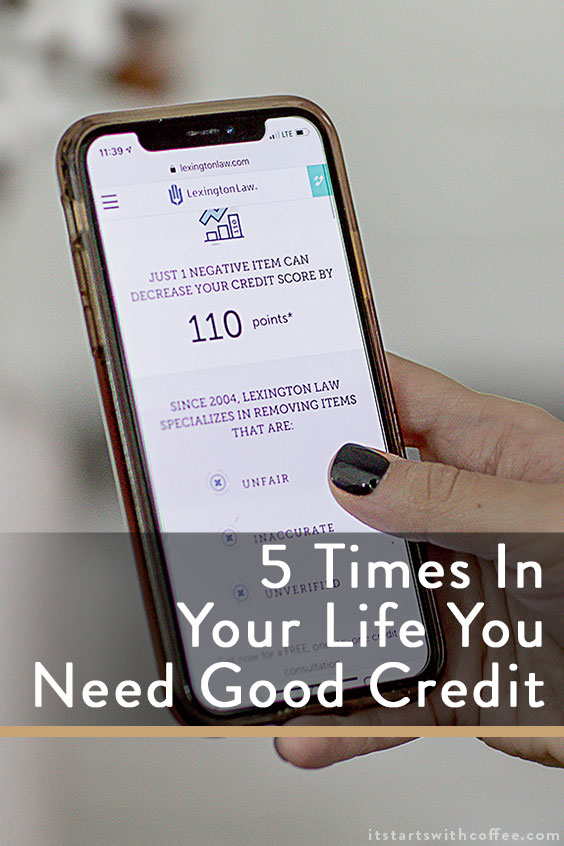 5 Times In Your Life You Need Good Credit
Loans: This is pretty obvious but of course you need good credit to apply for and get a loan. You can still potentially get a loan with marginally good credit, but the interest rate will be huge and in the long run you will pay so much more. You can still get a loan but the terms may be very undesirable.
Credit Cards: It's pretty easy to apply for credit cards these days. You just go to the website enter some info and apply. But did you know that every time you do that you are having a hard inquiry run on your credit and that every hard inquiry dings your credit? So not only do you not want to apply for tons and tons of cards at once, but you also want to make sure your credit is good WHEN you apply so the ding doesn't hurt you too much. Also your credit score will determine the interest rate you pay on a credit card. I live my life on the paying the balance off every month wavelength. I use credit cards for points, miles, and rewards, and honestly every time we travel we are using points to do it. BUT we pay our cards off every single month! Check your credit score for free here!
A Mortgage: We just bought a new house in July. Let me tell you that our credit was a big determining factor in our loan. The difference between a good credit score and an excellent credit score can be hundreds of dollars a month on a mortgage payment. That's money you can be using for other bills, savings, or just fun! Why spend more on a mortgage than you have to? Check out these mortgage myths via Lexington Law.
A New Car: Just like with a mortgage, your car payment can be really affected by a bad credit score. You may end up paying way more per month on a car than you would otherwise. Were those jeans or that handbag worth it? If you happen to have a lot of hard inquiries (new credit cards opened etc) around the time you are planning to get a new car loan that may very well affect the interest rate you are given.  Read all about how your credit score impacts your auto loan here!
A Job: WHAT? Yes a lot of potential employers will actually run a credit check. If they feel like you are irresponsible with credit that may weigh heavily on their decision to hire you. Would you hire someone that was irresponsible in such an important part of their life? Probably not.
I'm sure some of these you knew and some might have made you re-evaluate some of your spending choices. That's the point. Every spending decision we make doesn't just affect us right then. Nope it's a long term decision that follows you any time you need to make a big purchase or even when you go after that dream job. If you need to rebuild your credit this is a great resource from Lexington Law.
What is one time in YOUR life you needed good credit? Tell us your experience and let's be each others cheerleaders on this credit journey!